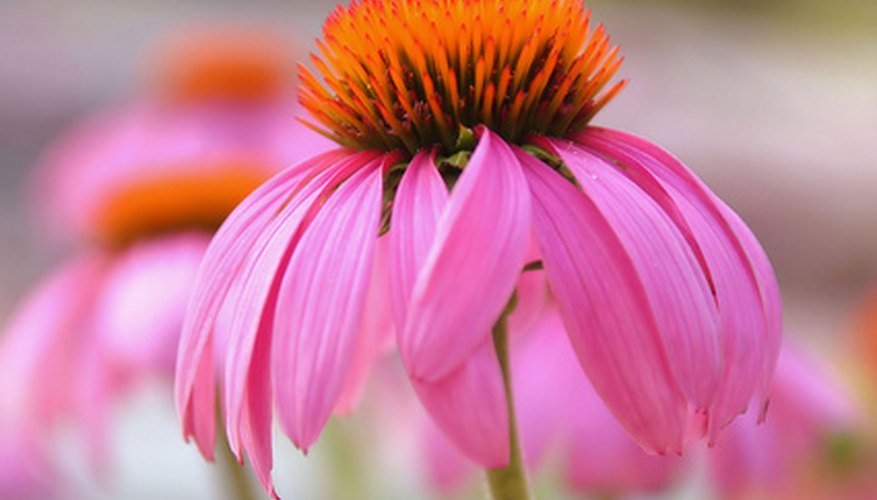 Flowers with colors like red, pink and green in their name typically describe their blooms or foliage. Grown in wide range of shapes, sizes and colors, flowers provide vibrancy to the garden to create a showy display. They produce lush garden borders, dramatic flowerbeds, colorful containers and flower-filled walkways and paths. Flowers are also ideal mixed together to create themed designs or used alone for a dramatic garden design.
Cheddar Pink
Cheddar pink (Dianthus 'Bath's Pink') is a flowering perennial ground cover with a clumping growth habit and moderate growth rate. Low growing, they grow 6 to 12 inches tall and wide, an ideal flower to grow along a front flowerbed or border. The clusters of pink, toothed-edged flowers have a clove-like scent and attract birds and butterflies. The wide-spreading, grass-like, blue-to-green foliage contrasts with the pale blooms and is deer-tolerant. Cheddar pink flowers grow best in full sun and sandy, well-drained soil. To promote a long blooming season, deadhead the spent blooms as soon as they are visible. They do not tolerate standing water. Plant cheddar pink flowers in USDA Hardiness Zones 3 to 9.
Purple Coneflower
Purple coneflower (Echinacea purpurea) is a variety that has an upright, clumping growth habit and moderate growth rate. It grows 1 to 3 feet tall and wide. The 6 inch wide, deep-pink rays surround the brown, spiky central cones or disks that attract birds and butterflies. Drought-tolerant purple coneflowers withstand periods of limited moisture, ideal in hot, arid climates. The green, lance-shaped, basal leaves of purple coneflowers grow at the base of the perennial to create their clumping habit. Purple coneflowers grow best in full sun and well-drained, deep soil. Versatile, they are tolerant of heat, humidity and poor soils. To ensure a long blooming season, deadheads the spent flower blooms. Plant purple coneflowers in USDA Hardiness Zones 3 to 9.
White Gaura
White gaura (Gaura lindheimeri) is a clump-forming perennial flower that grows 24 to 48 inches tall. The four-petaled, white, butterfly-like flowers on white gaura emerge in summer and last into fall. White gaura has pink flower buds that grow along the erect, wand-like stems that open to white and slowly fade to pink. Drought- and heat-tolerant, white gaura is a hardy flower variety to in a perennial flowerbed or nestled within containers. The 1 to 3 inch long, narrow, lance-shaped, green leaves on white gaura are mottled with maroon to create an attractive feature to the plant. White gaura grows best in full sun to part shade and, sandy, well-drained soil. Plant white gaura in USDA Hardiness Zones 5 to 9.