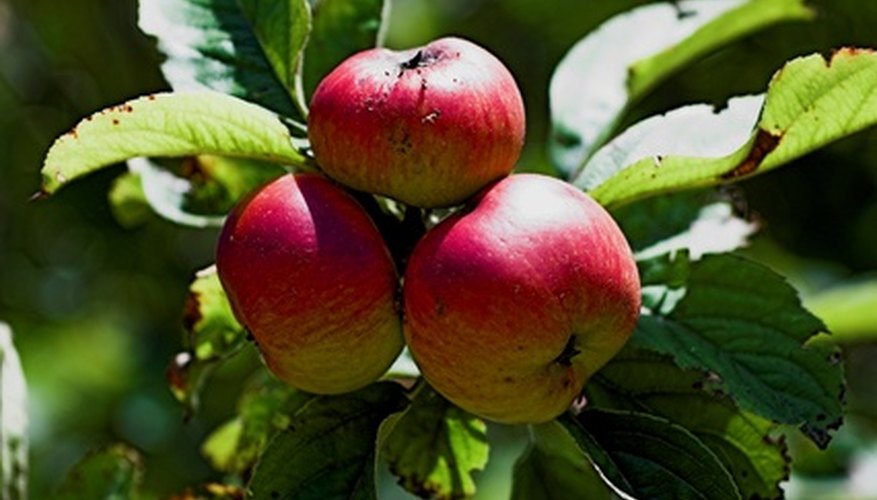 Young apple trees as well as mature trees will require a schedule of spraying to maintain health and a bountiful harvest. Apple trees grown in New Hampshire are no exception as a specific time is required for applying certain sprays. Creating a specific schedule for your apple trees may require consultation with your agricultural extension service agent. Various insect or bacterial infestations may exist from year to year, requiring a specific chemical applied for that particular problem.
Mix dormant oil to the container directions. Apply the spray when the leaves are 1/2 inch in length. This generally is from April 15 to April 25. Coat all limbs and leaves. The dormant oil spray controls mites and suffocates eggs waiting to hatch in the crevices of the tree bark. Spray every three years.
Apply a fungicide while the new blooms are still in tight clusters. Follow all label mixing directions. Spray the entire tree once, during first two weeks in May.
Observe the blooms for signs of tent caterpillars, or saw flies. Mix a low dose of an insecticide. Spray the tight clusters of the blooms and the new leaves. Do not apply an insecticide if blooms are open and pollinating insects are present.
Apply another treatment of the fungicide while the flowers are in full bloom. The spray will decrease the infestation of apple scab.
Mix and apply an insecticide treatment to the small developing apples just after bloom petal drop. Apple maggots will be present to invade the young growing flesh of the apple.
Continue with an alternating spray schedule every two weeks of an insecticide followed by a fungicide. Cease spraying all chemicals two to four weeks before harvest.