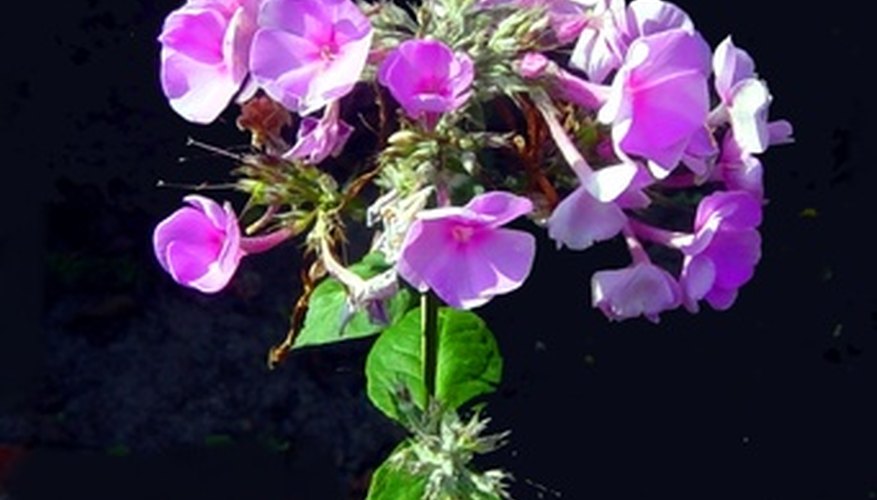 Garden phlox produce clustered blooms atop 2-to-3-foot plants in midsummer. These highly fragrant flowers attract both butterflies and hummingbirds and create a mass of color when in bloom. Colors range from the traditional magenta and white, to bicolor. These hardy plans thrive in full sun and require little care, but produce a second flush of blooms if trimmed properly. Creeping phlox reaches heights of 4 to 6 inches and spreads to 2 feet. Creeping phlox requires minimal trimming.
Pinch back garden phlox when they are 6 to 8 inches tall to encourage dense foliage and abundant blooms. According to the University of Minnesota Extension, phlox respond positively to pinching back in May or June.
Trim away blooms as they fade. This keeps your garden phlox attractive and encourages new growth.
Cut back the tops of garden phlox by several inches in late summer, once the first flush of blooms have faded. This forces the plant to produce a second crop of blooms. Although not as prolific as the first flush, a second set of blooms extends blooming into late summer or early fall. According to Ron Smith, horticulturist from North Dakota University Extension Services, creeping phlox that becomes scraggly can be cut back to remove ragged foliage after blooming. Apply water-soluble fertilizer to renew growth.
Trim the entire plant back to the ground level once foliage is killed by frost in the fall. Remove any pant debris around the plants. Mulch with a 2 to 3 inch layer of leaves or straw to protect tender roots during cold winter months.
Remove mulch in spring when the danger of frost has passed and new growth appears.