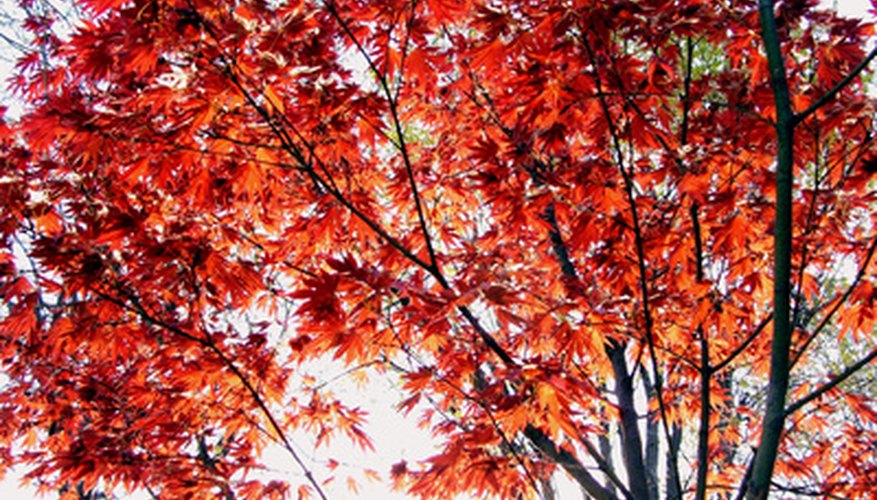 The red maple tree is a native deciduous tree found in southeastern Canada. These beautiful trees are well known for their colorful leaves that turn brilliant shades of scarlet, orange and yellow each fall. The red maple has a moderate to rapid growth rate and is cultivated best in bright to partial sun. Many varieties of the red maple are available to gardeners, each with its own distinctive characteristics.
Autumn Flame
The autumn flame is a very quick growing tree that reaches heights of 55 feet and spans an area of approximately 45 feet in diameter. The leaves of the autumn flame are smaller than most cultivars of red maples, but develop earlier than other varieties. The leaves transform into a stunning red color in the fall. This tree retains a wide, round shape when young.
October Glory
The October glory red maple tree has glossy green leaves during the year until late fall. During late autumn, the leaves of the October glory slowly turn to brilliant shades of orange and red. This tree grows to 40 to 60 feet in height and has a width of 50 feet. The tree's branches form the shape of a natural rounding oval. The October glory is usually grown for its stunning colors.
Red Sunset
The red sunset maple tree grows upright with a straight trunk. This deciduous tree extends up to 60 feet in height and 50 feet around. The red sunset maple loves hot weather and is drought tolerant. It has an accelerated growth pattern, and is a very robust tree. In fall, this beautiful tree's leaves convert to dazzling reds and remarkable orange hues.
Northwood
The northwood is a genus of red maple that maintains dark green foliage throughout the summer. This tree grows to 40 feet high. Its boughs are angled at 45 degrees and form a circular oval at the top of the tree. The northwood does not produce the same spectacular fall colors as most of the other types of red maples; its leaves turn into lighter combinations of orange and red.
Columnar
This red maple is named the columnar because of its narrow growth pattern. The columnar stretches to obtain 70 feet in height thus making it one of the tallest red maple trees. The circumference of the tree is only 15 feet, which gives a pyramid shape to this red maple tree. The columnar tree produces dark green leaves during summer that transpose into dark rich reds and brilliant oranges in autumn.