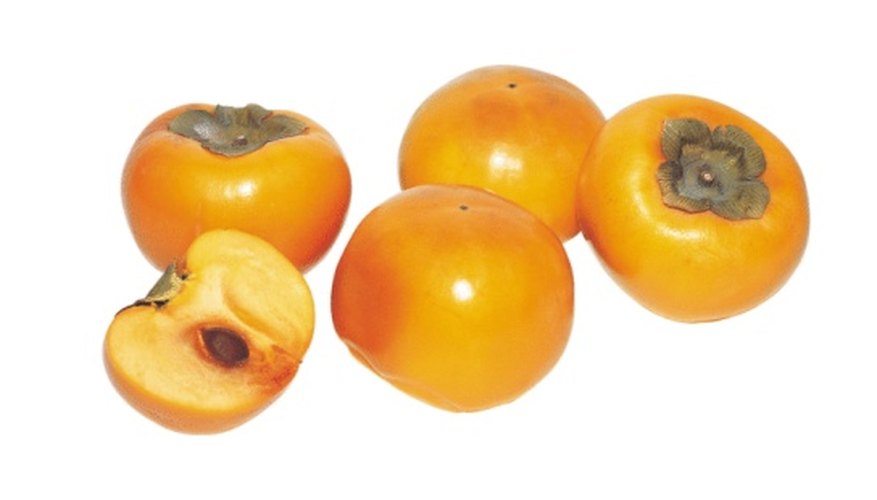 In Latin, the word persimmon translates to "food of the gods," a fitting name for a fruit that provides such a plethora of nutritious vitamins and antioxidants. Fuyu persimmons have a broad history in Asian culture. Their origin began in China thousands of years ago, migrated to Japan, and landed in California in the mid-1800s. The Fuyu persimmon tree grows heartily in warm climates and produces an abundance of fruit during its October-through-December season. The under-ripened fruit has a slightly sweet flavor while the fully-ripened fruit is rich, firm and incredibly sweet. When buying Fuyu persimmons, look for fruit that is light-orange with a green calyx at the top, where the fruit was attached to the tree.
Wash your Fuyu persimmon well under warm, running water.
Peel the fruit or leave the skin on, depending on your preference; a Fuyu persimmon is like an apple in that its skin can be peeled or eaten.
Cut the fruit in half, beginning at the bottom. Cut the calyx completely off the fruit.
Cut the two halves into quarters, then slice them into bite size pieces. Add toothpicks to individual peeled slices arranged on a plate for an authentic Japanese snack
Add the Fuyu persimmon slices to smoothies or salads. Make puree from them and add it to muffins, ice cream, cakes or breads.