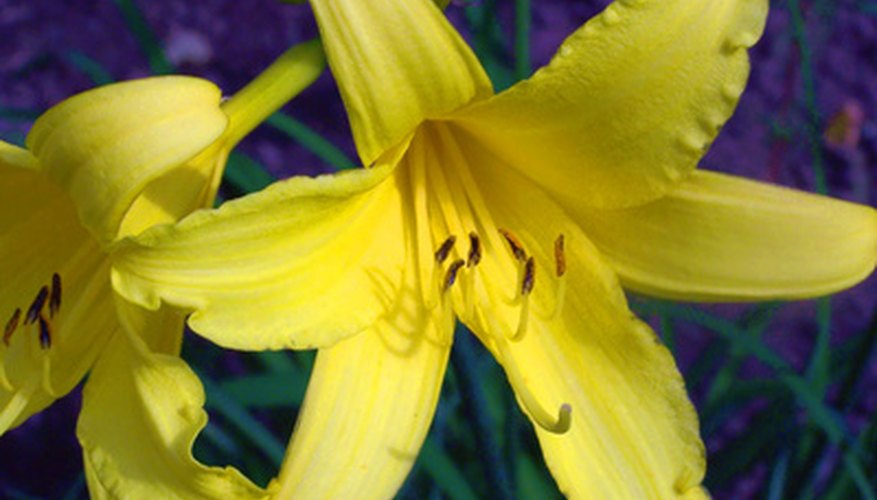 North Florida finds many gardeners growing and enjoying the May flowers of daylilies (Hemerocallis spp.) in cities like Pensacola, Tallahassee, Gainesville and Jacksonville and areas in-between. The brief but chilly winter and the long, hot and rainy summers are not favorable growing conditions for all varieties of daylilies, but many selections do perform well in this region. Consult with local nurseries and members of the American Hemerocallis Society to learn of best places to acquire daylily plants and other growing tips.
When to Plant Daylilies
Daylilies bloom most heavily in May and often with a sporadic reblooming in June to August. The Tallahassee Daylily Society recommends the transplanting of daylilies (digging them up from the ground) is best done either from March through May or in September through November. The North Florida Daylily Society mentions that those planted in October are best established for blooming the following spring. Container-grown daylilies can be planted even into the hot and rainy days of summer, but care is needed to ensure that roots do not dry out and rot does not occur.
Choosing the Garden Location
Choose a garden area that receives at least 6 hours of sunlight daily and where soils are never waterlogged after a typical rainfall or irrigation cycle. Growing daylilies under the broken, bright light beneath tall pine trees is a good choice in North Florida, especially since the summer sun intensity is high. Both daylily societies comment that dark-colored flowering selections should receive some afternoon shade, otherwise their petal colors fade drastically, unlike pastel flowering types.
Ideal Soil Conditions
Much of the Florida Panhandle has heavy red clay soils, although sandier types exist closest to the Atlantic Ocean or Gulf of Mexico. Regardless, incorporate lots of organic matter such as compost, well-cured manure or pine bark fines to improve soil "crumbliness" as well as create a soil that is moist but always well-draining. A slightly acidic soil (pH 6.0 to 6.5) is the goal .
Planting Daylilies
Till the garden soil to a depth of 12 inches before planting daylily roots, according to the North Florida Daylily Society. Plant the tent-like roots of daylilies at the same soil depth as they were previously growing in the ground or container. Never plant them too deeply, as that encourages root rot as well as preventing healthy leaves and abundant flowering. Space plants 18 to 24 inches apart. Place a coarse-textured organic mulch at a depth of 1 inch over the entire planting area to help conserve soil moisture, but never deeper than 2 inches, which can keep daylily plants from growing robustly or producing flowers.
AHS Display Gardens
The American Hemerocallis Society has many members in Florida, and two display gardens exist in the northern counties of the state. Visit these gardens to learn of the names of varieties that thrive in North Florida, as well as to see the colors of the blossoms in person to discover which are most appealing to you. Location and contact information on these gardens--Ridaught Daylily Farm and Windmill Daylilies--is provided on the North Florida Daylily Society website, linked in the References section.
Concerns
A rust disease affects many daylilies grown in Florida, and North Florida has not escaped the effects of this concern. Some varieties of daylilies succumb to the disease quickly, developing yellow spotted leaves or shriveled foliage and sparse flowering. Avoid planting and growing varieties that are susceptible to the rust and focus energy on finding selections that produce flowers well, even though some foliage is affected by the rust. Chemical spraying is an option to control the rust. Conversing with nurseries, master gardeners at your local cooperative extension office, and members of daylily societies will lead you to rust-resistant daylily varieties as well as good management practices.