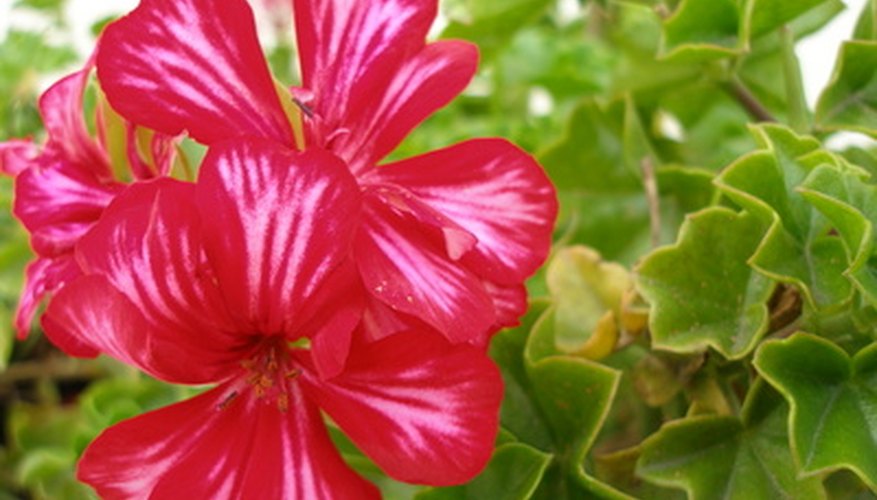 A shepherd's hook supporting a basket full of different types of hanging plants makes an eye-catching entryway focal point. Baskets of Boston ferns suspended from a porch ceiling are a perfect accent for Victorian architecture and white wicker furniture. Trailing blooms and cascading leaves soften the contours of window boxes, patio walls or fences. Low-light, foliage hanging plants bring the garden indoors. The decorative possibilities of hanging plants are as numerous as the plants themselves.
Ivy Geranium
Trailing ivy geranium (Perlargonium peltatum) has up to 3-foot stems with dense, green ivylike foliage. This South African native, perennial where winter temperatures remain above 30 degrees F, flowers from spring until frost. More than 75 ivy geranium cultivars are now available. Their blooms may be white or shades of pink, red or lilac. Some hybrids have variegated leaves. Ivy geranium is happiest in full sun with partial afternoon shade where summers are hot, according to the Missouri Botanical Garden. It flowers most heavily with nighttime temperatures from 50 to 60 degrees F. Plants like fertile, well-drained soil and consistent--not excessive--moisture. Overwatering causes blistered leaves.
Sweet Potato Vine
While its roots are edible, Indonesia's sweet potato vine (Ipomoea batatas) is better known for dramatic, chartreuse, deep purple or variegated leaves. The heart-shaped or lobed foliage makes a striking background for blooming hanging plants in large containers or window boxes. Between 8 and 10 feet long, this vine is hardy to 20 degrees F. Where winters are colder, gardeners can overwinter the container plants indoors in bright sun, states the Missouri Botanical Garden.
Fan Flower
Australia's fan flower (Scaevola aemula) grows as an annual in parts of the United States where winter temperatures drop below 30 degrees F. Spreading 1 to 2 feet wide, this heat-and-humidity lover has green, lance-shaped foliage. From early summer until frost, deep blue, fanlike blooms nearly obscure its leaves. The cascades of blue contrast attractively with warmly hued hanging plants like yellow or orange calibrachoa. Disease- and pest-resistant fan flower likes filtered sunlight and averagely moist, well-drained soil, notes the Missouri Botanical Garden.
Arrowhead
Arrowhead plant (Syngonium podphyllum), a popular indoor hanging plant in the United States, is native to Mexico and Central and South America. Seldom flowering as a houseplant, this 3- to 6-foot vine has interesting, pale green foliage that changes with age, according to the Missouri Botanical Garden. Oval new leaves may have silver markings. Mature foliage develops the arrow shape responsible for the plant's name before becoming lobed. Leaves on fully grown plants can be more than 12 inches long. This easy-care houseplant loves humidity and performs best in a bright area out of direct sunlight.