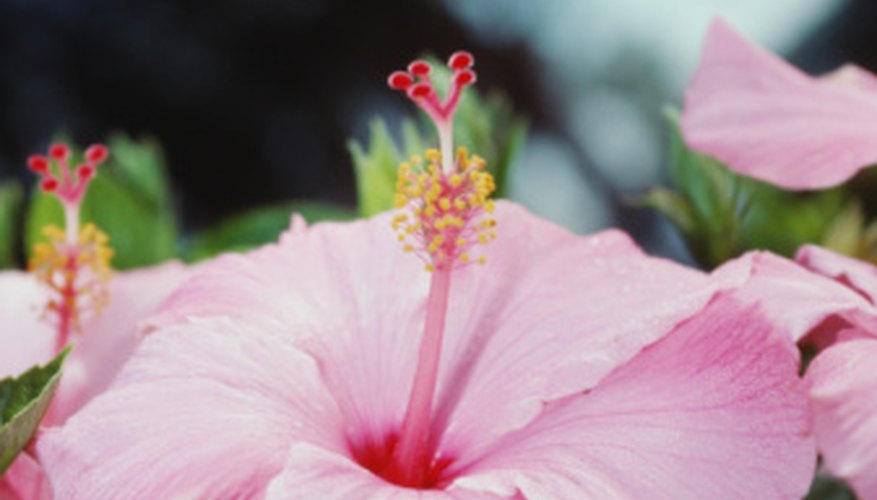 Photos.com/Photos.com/Getty Images
The hibiscus is an ornamental bush that planted outdoors as a landscaping element. It has colorful flowers and alternating green leaves. You can prune hibiscus plants to maintain their size and keep them healthy. In the spring, you can prune hibiscus to maintain size and shape. It can also be pruned in the fall. The focus in the fall will be to remove dead or damaged branches. Hibiscus responds well to pruning, and you can remove one-third of the branches safely to create new growth.
Sterilize the blades of your pruning shears by rubbing them with hand sanitizer using a clean rag. This will help prevent the spread of plant diseases to your hibiscus as you prune them.
Cut the branches back in early spring. You can trim approximately one-third of the branches off as long as you leave two to three nodes or bumps on each branch. Make the cut above a leaf node that is facing up or out from the branches using pruning shears. Clip long branches that are disproportionate to the rest of the bush first and continue to prune the remainder of the bush in the same manner.
Prune any dead branches back to the base of the hibiscus in late fall using pruning shears. This will provide the new shoots in the spring with an opportunity to grow without the weight of dead branches in the way.
Things You Will Need
Pruning shears

Hand sanitizer

Clean rag
Tip
Prune your hibiscus each spring to maintain its size and proportion. Keep your pruning shears sharp.
Warning
Wear gardening gloves when pruning to avoid scratches.