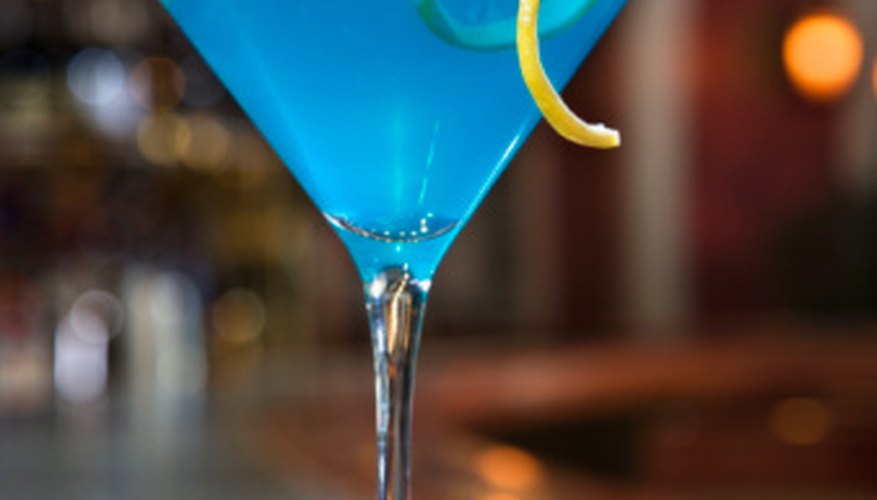 Creatas Images/Creatas/Getty Images
While granite, concrete and bamboo are popular modern choices for a bar top, epoxy -- a hard resin that dries clear -- provides a plethora of design options. Place your favorite mementos in resin, and when it dries you will see through the epoxy to the mementos. Whether you choose to create a liquor-themed bar top with drink-inspired pieces, or something completely different, epoxy can help you create a one-of-a-kind focal point.
Bar-Themed Bar Top
While bottle caps are a whimsical approach to an epoxy bar top, you have other options. For instance, instead of the bottle caps, create a display of your favorite beer bottles or wine bottles and cover with epoxy. Or, create a design with wine corks. Stand them on end, forming a pattern of your choice: horizontal rows, concentric circles, or any which way. Another idea is to place a display of antique or vintage bar tools in the epoxy.
Rock 'n' Roll Bar Top
For a rock 'n' roll bar, collect memorabilia and create a music-themed bar top. A collection of concert ticket stubs, concert posters and photographs can be arranged and coated with epoxy to commemorate your musical tastes. One idea is to epoxy old records across the length of the bar. If you don't want to part with your favorites, purchase bargain-bin records from secondhand stores or flea markets. Remove the records from their sleeves and lay them flat on the bar before you coat them with epoxy.
Odds and Ends Bar Top
For a visually appealing bar top, choose something muticolored, such as gumballs, marbles or knickknacks. You can add vintage knickknacks in mini-vignettes across the bar top. Use collections of old toys, cars, dolls, books and other colorful items to create a fun-themed bar top.
Nature Bar Top
Choose from pebbles, leaves, branches and other natural elements to create a nature-inspired bar top. One idea is to use cut pieces of gemstone to design the bar top. You could tackle this project on your own or hire a contractor, depending on your skill level and ambition. One idea is to collect beach rocks and loosely arrange them on the bar top before adding the epoxy. Gnarled driftwood and petrified sections of wood can also be used to create a nature bar top.
Tribute Bar Top
Pay tribute to the past with your epoxy bar top. For instance, collect mementos from your days in a band and display them in epoxy. You can use photographs, a guitar strap, a studded belt, a T-shirt with the band's logo, and other items for the design. You can pay tribute to sports in the same way.