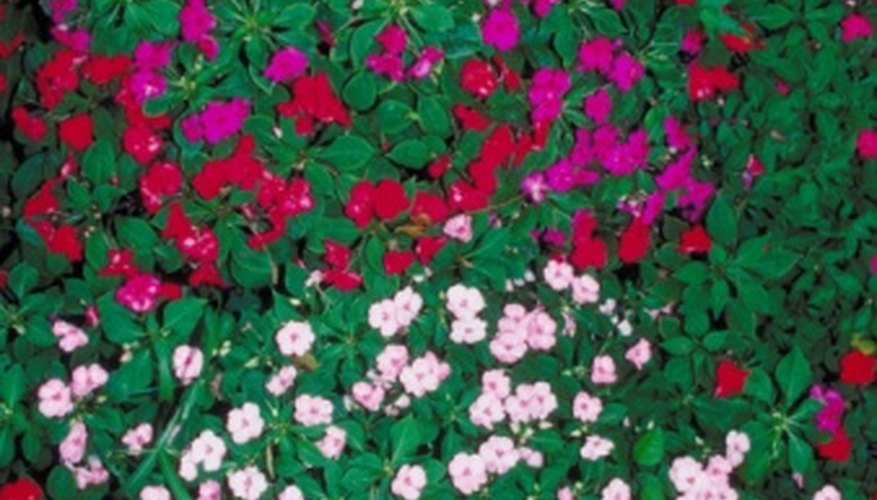 Jupiterimages/Photos.com/Getty Images
Impatiens are the most popular bedding plants in the United States, according to Clemson University. Gardeners plant these ornamental plants for their colorful blooms that brighten shady areas. Their blooming period starts from the time they are planted until the first frosts. The date of your first frost depends on what area of the country you live. In addition, improperly planted impatiens have problems blooming.
Starting Indoors
Impatiens are typically planted from transplants; however, gardeners can start these plants from seeds eight to ten weeks before the last frost date of your area. The last frost date of your area depends on where you live. For example, gardeners living in southern regions such as Mobile, Alabama, can expect their last frost date to fall around February 28th, while gardeners in northern cities, like Chicago, will have a last frost date around April 20th, according to the Farmer's Almanac. Once you have your seeds planted, seedlings will start developing flower buds in a month.
Re-seeding
Impatiens are able to grow back from their own seed each year. When impatiens are not deadheaded the previous year, garden beds sprout impatiens in the early spring when the soil temperatures warm up. When seedlings grow from their own seed, you will not see blooms until late-May, according to gardening Walter Reeves. Because impatiens germinate late in the spring, gardeners prefer to purchase transplants from their local gardening supply store.
Blooming Problems
Impatiens grown in heavily shaded areas produce fewer blooms, according to Iowa State University. To prevent causing few blooms, plant your impatiens in areas of partial shade. Partial shade is characterized as an area receiving four to six hours of sunlight. Plants can also experience problems if they are planted in areas that receive full sunlight or six to eight hours of sun a day. Heat and direct sunlight can dry out the soil and cause stress to impatiens.
Other Factors
Blooms can last 210 days a growing season if impatiens are planted in locations that have long summers, according to the University of Mississippi. At the end of the summer, flowers start to go into dormancy. The first frost will mark the end of your blooms. Like the last frost of the year, the time of your first frost greatly depends on where you live in the United States. The first frost in areas like Sacramento, California, occur near December 4th, while the first frost for places like Hartford, Connecticut, can occur around October 4, according to the Farmer's Almanac.