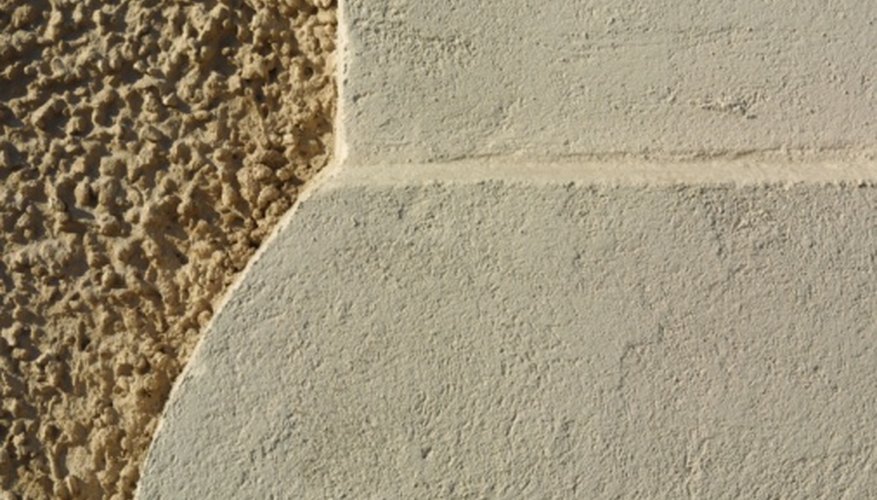 Photos.com/Photos.com/Getty Images
Plastering is almost as much an art form as it is a building trade. As such, the exact mix of ingredients in any form of plaster frequently varies from one craftsman to the next. As far as the American Society for Testing and Materials is concerned, stucco -- the common name for Portland cement plaster -- should be comprised of 1 part cement to between 1 1/2 to 5 parts sand, depending on which coat is being applied. Note that as an ingredient, cement means any cement-like substance, such as cement and lime. A premixed combination of materials known as plastic cement is frequently used to simplify the process.
Pour 1/2 of a five gallon bucket of water into a cement mixer. Start the mixer.
Add 2 buckets of plaster sand and 1 bucket of plastic cement to the mixer. Pour in enough water to dampen the ingredients thoroughly. Add 1 to 2 more buckets of sand for the scratch coat, or up to 3 buckets of sand for the base coat, which is also known as the brown coat.
Add any additional water needed to form a workable mix in careful increments. Too much water will make for a soupy mix and weaken the stucco. Allow the mixer to run for 4 or 5 minutes before using the prepared stucco.
Things You Will Need
5-gallon bucket

Clean water

Cement mixer

Plastic cement

Plaster sand
Tips
As a rule of thumb, the scratch and brown (base) coats for a three part stucco finish should have a minimum of 3 parts sand to 1 part cement, with a maximum of 4 parts sand for the scratch and 5 parts sand for the brown.

You can buy various types of stucco in premixed bags, as well. Some are reinforced for use in single-coat applications, while others are especially useful for repairs or the finish coat of a two or three part process. Even the pros frequently buy premixed stucco for the finish coat.

A 5-gallon bucket is about 3/4 cubic foot.
Warning
Portland cement is an eye, skin and lung irritant. Protective equipment is recommended.