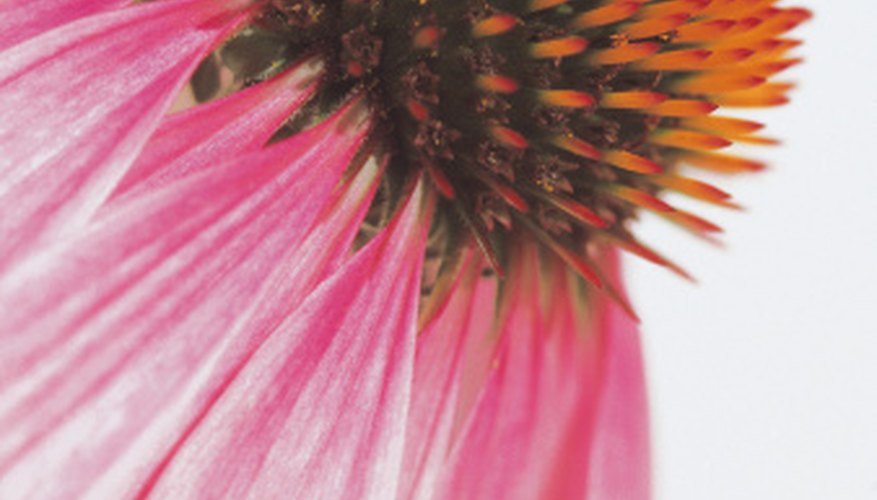 Coneflower, or echinacea, is a hardy perennial, once known only as a native prairie plant -- or weed -- in the Midwest and Southeast. But many gardeners now appreciate its nearly carefree growth, mounds of serrated leaves and numerous tall stems topped with long-lasting daisy-like flowers, usually with purple petals and brown centers. It grows in poor soil, requires moderate sunshine and little water. Flowers appear from May through October, attracting birds, bees and butterflies.
About Coneflowers
Part of the aster family, coneflowers resist insects and disease, bloom reliably each year, and spread quickly and easily through their heavily seeded "top hat" centers. Showy blooms appear on four main types grown in U.S. nurseries: narrow-leaf purple coneflower in the West, pale purple coneflower in the lower central states, yellow coneflower in the Ozark Mountains, and purple coneflower - the most recognizable, called "echinacea purpurea," -- in the central and upper Midwest.
Blooming
Coneflowers bloom from mid-May through early fall. In northern climates, flowers appear by mid-June. In most regions, coneflowers are in full bloom by July 4. Blooms form in groups of 2- to 6-foot-tall stems. To extend flowering, cut back plants in mid-summer by about half. This pruning encourages new growth and blooms that pop up by late August to early fall. Leaving dead flowerheads creates winter interest and attracts seed-eating birds, most notably goldfinches.
Varieties
Echinacea paradoxa is the only yellow coneflower, often mistaken for its cousin, rudbeckia. Yellow coneflower has a higher brown center and more drooping yellow petals. Choose white coneflowers from species named Alba, White King or White Swan, or Finale White, which has greenish centers. For light purple to rosy-purple blooms, opt for Bravado, Bressingham Hybrids, Kim's Knee-High or Magnus. For purple to deep red blooms, select from Robert Bloom, Springbrook's Crimson Star or The King.
Considerations
Coneflowers grow robustly, showing their tough field flower origins. Because of their large seed heads, from which the petals spray -- outwards or downwards, depending on the type -- coneflowers produce countless seed each growing season. They especially spread quickly and easily when the dead seed heads are left in winter. Birds eat the seeds but also drop them near and far. Coneflower can become a nuisance plant if not thinned yearly or grown within contained areas.