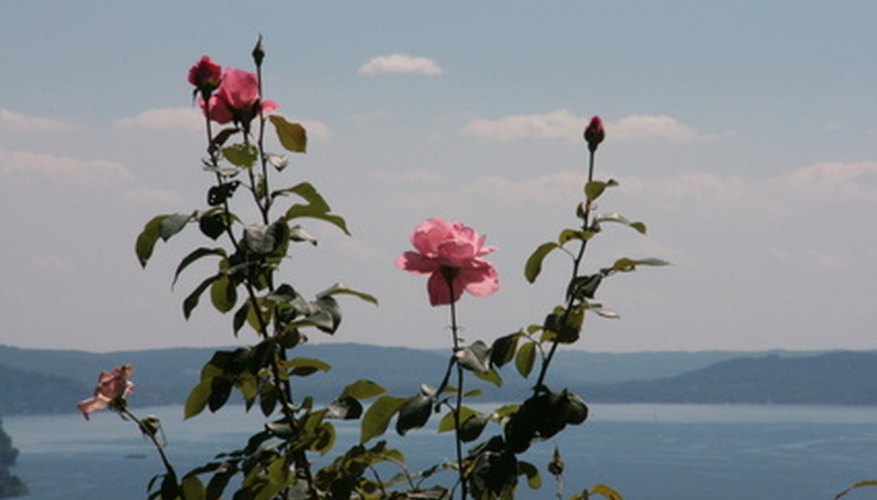 With their long strong canes supporting large blossoms, hybrid tea roses are the classic florist rose. The hybrid tea, according to the Colorado State University Extension, was developed when a tea rose was crossed with a hybrid perpetual. Hybrid teas have become one of the most popular choices for gardeners, with many varieties producing blooms continually throughout the growing season. Hybrid teas are available as a bush rose, tree rose, ground cover, miniature or climbing.
Ornamental
All varieties of hybrid tea roses are useful in flower gardens. Most varieties of hybrid tea roses grow 3 feet or taller, according to Texas A&M University, making them a good choice for flowerbed plantings, often as a foundational plant. As a cut flower, hybrid teas are a popular choice, especially the fragrant varieties. Miniature roses thrive in containers, and--with adequate conditions--can be grown indoors.
Coverage
Use hybrid tea to cover large, unsightly, immovable objects. There are many varieties of climbing roses--such as the Fourth of July rose--that grows upwards to 20 feet tall. Cover an old satellite dish with chicken wire and plant a climbing rose to grow over it. Plant hybrid tea bushes close together in a line to hide an air conditioning unit.
Privacy
Use climbing hybrid tea roses to cover fences and provide privacy. Plant the climbers under farm fencing, wrought iron fencing, split rail fencing or any type of fencing the climber can be secured to as it grows. The thorns on these roses provide an added security for the yard, deterring pets from getting out and unwanted visitors from coming into the yard.