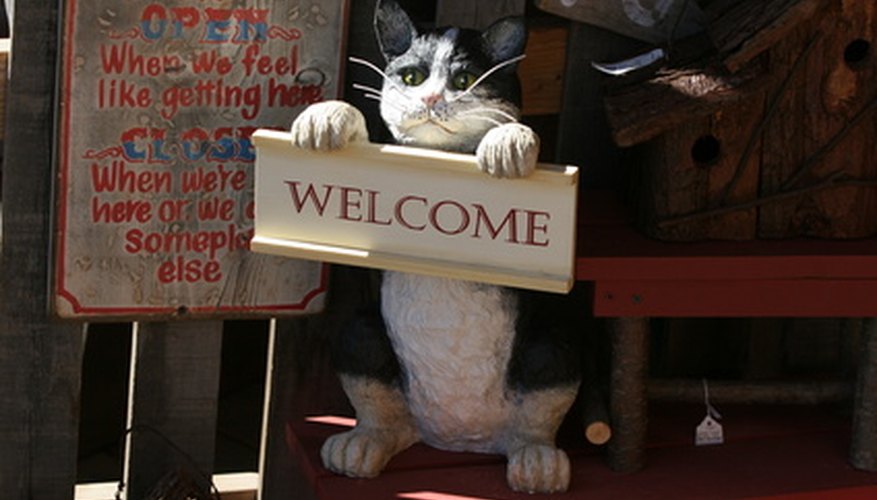 A handmade sign can welcome visitors to your garden with quaint lettering and chic designs of flowers, birds or butterflies. To make a wooden welcome sign you only need a few tools and a plan in mind for how you want your sign to look. Once your sign is complete you can mount it to a garden fence, attach it to its own post or hang it from a tree branch or shepherd's hook.
Sketch out a few design ideas on a sheet of paper for how you want your welcome sign to look. You can use all capitals for your lettering or just have a more exaggerated "W" for the beginning of the word "welcome." Also plan if you want to include whimsical designs around the word "welcome" on your sign.
Sand over the entire surface of your board to remove rough surfaces and round the edges of the wood. Dust the sanded board with a clean wide paintbrush or cloth to remove any stray sanding dust.
Apply a coat of primer to the entire board to prepare it for painting. Allow the primer to dry for up to an hour until it no longer feels tacky.
Lightly draw the outline of your "welcome" letters as well as any other design items you have planned. Paint your sign along your drawn lines starting with the word "welcome" and add in other items in the colors you prefer. Allow all of the paint to dry for two hours.
Spray your sign with clear coat sealant in a well ventilated area or outdoors. Use long, sweeping motions to get a consistent coating over the paint. Let the sealant dry overnight before mounting or hanging your sign.
Things You Will Need
Sandpaper

2-by-8-inch board, 1 foot long

Wide paintbrush or cloth

Primer

Acrylic paint

Paintbrushes

Spray clear coat sealant
Tips
Use an engraver to create the word "welcome" in the sign if you want a more three-dimensional look.

To create the look of an older sign, sand over your painted board to rough up some areas of wood and lettering before adding sealant.