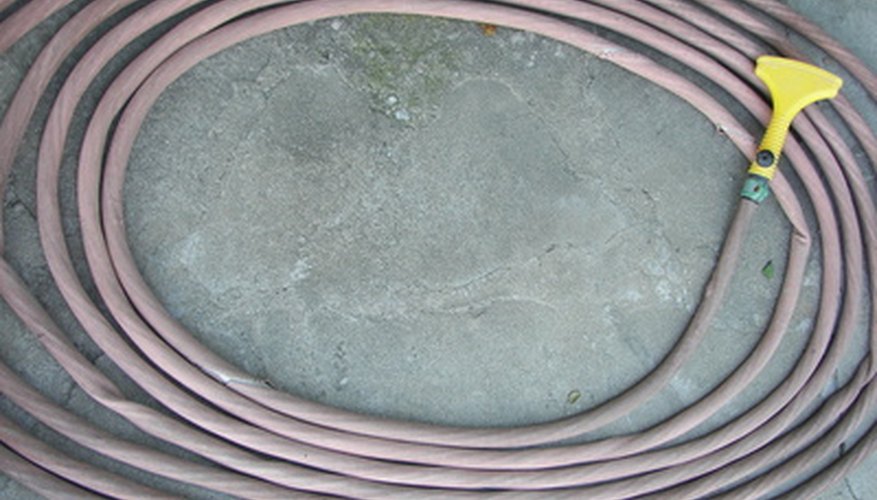 Setting up a drip irrigation system can be complicated or you can simplify the process by using a few common items such as garden hoses combined with some basic drip irrigation components. When you water your plants with a drip system, you'll be saving water because the water goes only where you tell it to go: at the root zone of your prized petunias or terrific tomatoes. You won't waste water by watering pathways or your driveway and you'll prevent many weeds because they won't have the water they need to grow.
Plan your drip system by measuring the area from the nearest faucet through the area you want to water. You can snake your garden hose around plants if you need to instead of simply laying it in a straight line. Then purchase enough garden hoses to cover the area.
Screw one of your hoses to the nearby faucet and then position it throughout the area you want to water. Attach additional hoses if you need to cover a longer area. Be careful not to damage any small plants that might be in the way.
Punch holes with your hole punch wherever you want to insert an emitter. These locations must be very close to the base of plants you want to water. Special punches are available at garden supply centers: a paper punch will not work and will make a hole too large for drip emitters.
Insert one emitter into each hole. Different size emitters are available for different sized plants: if you're watering a tree, choose 3 gallon per hour (GPH) emitters and use two or three around your tree. If you're watering a smaller plant, such as an herb or vegetable, use ½ GPH emitters.
Screw an end cap to the far end of your garden hose.
Install a timer at the faucet if you want to save time and be assured that your plants will get the correct amount of water they need at the correct intervals.