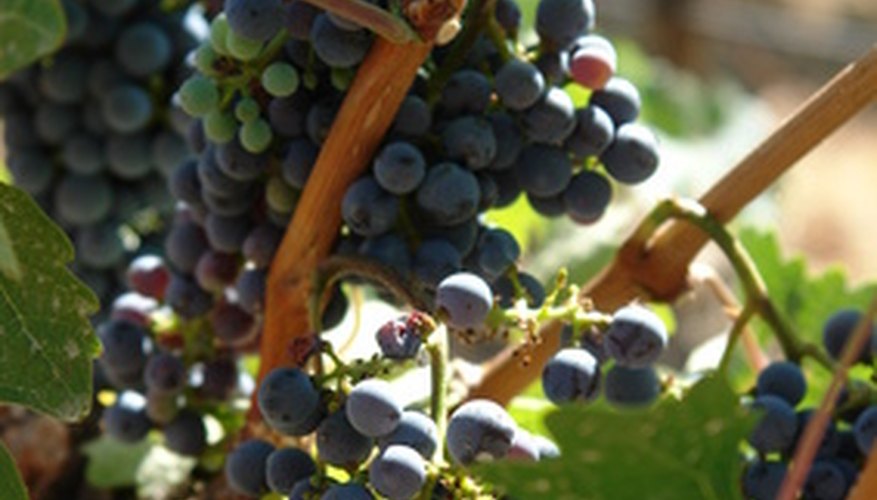 Accent your landscape with something that can provide a delicious fruit harvest, as well as an architectural element. Create an arbor entryway to support and grow grapevines as a focal point for your garden, or as an elegant touch to a sitting area in your landscape. When building your own arbor, make sure to consider the size you want it to be and the location so the grapes receive proper sunlight.
Create the holes for the support posts that will be the main structure of the grape growing arbor. Use the post digger to make four holes that are spaced evenly apart on flat ground. The holes must make a square or rectangle shape, whichever you desire. An average size is about 4 feet by 3 feet.
Dig the support post holes with the post digger. The holes should be about 2 feet deep and slightly smaller in diameter then the posts. Layer a 1/2 lb. of gravel into the bottom of each hole for added friction and support.
Firmly stick a pole into each hole. Turn the pole clockwise until you can't turn it anymore to ensure the stability. You want the pole to hit the bottom of the hole and have a very tight fit.
Drill three holes on the front face of each post. Space them evenly apart. These are for the wires to go through to create the arbor. Insert an eye screw and a screw into each hole.
Thread the wire carefully and tightly through the first row of eyes. Cut the wire once taut and twist it around the top of a pole to secure it shut. Repeat this threading, cutting and twisting procedure with the second and third row of eyes, one at a time.
Dig a hole for the grapevine transplant about 6 inches from each post, on the outward side so the growing vine will cover the post first. Planting procedures will vary depending on the grape variety, but most commonly, you should dig a hole as deep as the transplant. Then backfill the soil and some fresh compost and pat down until firm.
Water thoroughly after planting to settle the soil around the grapevine roots.
Secure the grape vine canes and tendrils to each post, using loosely tied plant ties or twine. Train the grapevine to grow upward and outward, so you can cover as much of the post as possible. Eventually, once mature, the grape vines can be trained up and over to touch each other at the top.