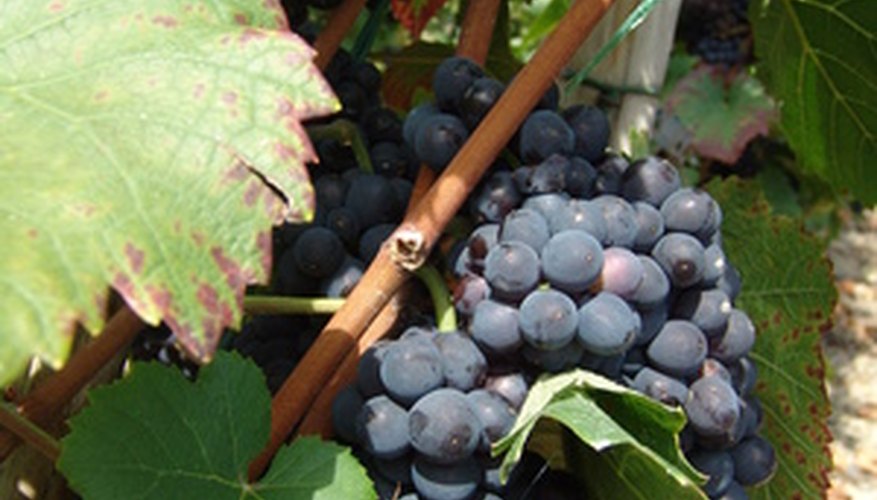 Grapevine wreaths in the store can cost a pretty penny, while making your own requires no special skills and is cheap if you grow your own grapes or know someone that does and is willing to share the vines with you. The key to making a grapevine wreath is in gathering the vines during the dormant stage, which is typically from September until April, and using the cut grapevines immediately while they are pliable. Grapevine wreaths work well hung from doors or over mantles and will last for years.
Cut grapevines with sharp gardening shears or clippers once the grapes are done being harvested. Cut clear to the ground, keeping the grapevines as long as possible, which makes them easier to form into a wreath.
Remove all dried leaves and fruit from the vines. Keep all the curly tendrils which will add character to the wreaths.
Form a grapevine into a wreath, by holding one end in your hand and wrapping the vine around your elbow and back down to your hand as if coiling a rope or extension cord. Continue wrapping the grapevine around your elbow until it is all used and has formed a wreath.
Secure the loose end by pushing through the the circle of grapevines. Use floral wire to help hold in place if necessary. If a larger wreath is desired, add another grapevine to the first, by inserting the end of the second one through the circle of vines and wrapping it around until it is all used.
Things You Will Need
Grapevines

Garden shears

Garden gloves

Floral wire
Tips
Soak cut grapevines that have dried out in water for a few hours to help restore their flexibility.

Decorate the grapevine wreaths with dried flowers, greenery and ribbon if desired.
Warning
Do not let the cut grapevines sit out for more than a day or two or they will dry out and become too brittle to work with.
References