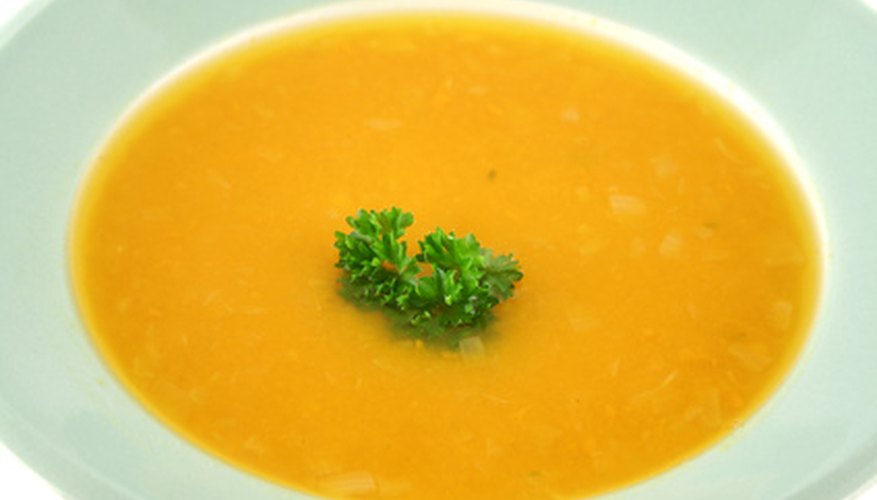 Pumpkin spinach soup is a delicious meal, especially for a chilly autumn or winter day. Pumpkin and spinach are both very nutritious vegetables, especially if harvested right from your garden. Spinach is rich in vitamins K and A, manganese, folate, magnesium and iron. Pumpkin, which is a winter squash, is also rich in vitamin A, and it also provides substantial amounts of vitamin C and potassium. This recipe provides a delightful, warming way of enjoying the benefits of these wonderful vegetables.
Dice the onion and garlic and sauté them in butter in the large pot until the onion turns translucent. While the onion is cooking, dice the tomatoes and the pumpkin.
Add the pumpkin, chicken or vegetable broth, tomatoes, and spices (as directed, or to taste) to the pot and cover. Add more water as needed to cover. Bring the mixture to a boil, then reduce to a simmer.
Puree the spinach in a food processor or high-speed blender. Check the simmering vegetables to see if they are tender. If they are, turn off the heat and allow the mixture to cool slightly.
Add the cooked vegetables to the food processor or blender with the spinach. Blend the pumpkin spinach soup into a puree. If you do not have a food processor, make sure that your blender is capable of processing thick food at high speeds. A Vita-Mix or similar blender is ideal.
Return the pureed mixture to the pot. Add salt and pepper to taste. Cook on low, stirring frequently, until the desired thickness and flavor is achieved.