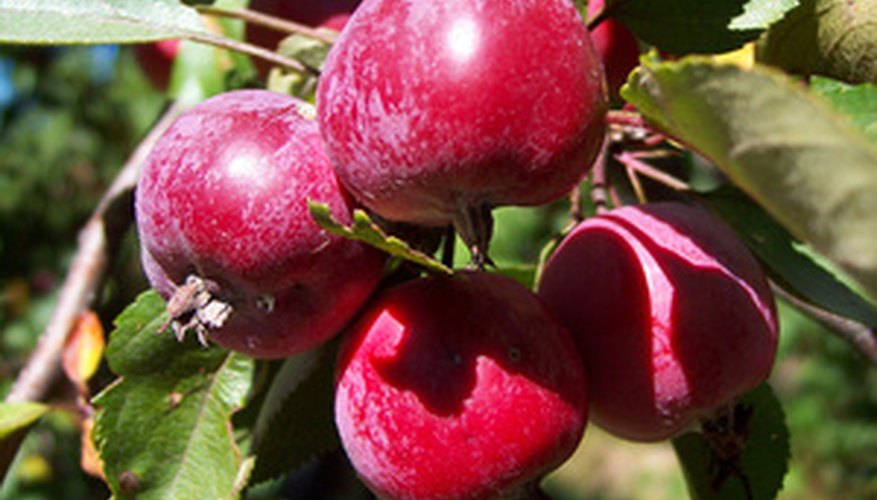 A visit to the country fair is likely to reveal rows of sweet, spicy apple butter ready for winter storage. Spread on thick slices of toasted homemade bread, or topping hot biscuits straight from the oven, this country treat is bursting with flavor. Although you may not know Aunt Bertha's secret ingredient that sets her apple butter apart from the rest, you can make your own by following a basic recipe.
Select firm, fresh apples free of blemishes or bruises. The University of Maine Extension recommends Jonathan, Golden Delicious, Winesap, Stayman or McIntosh apples for making apple butter, while Washington State University Extension supports the use of crab apples for apple butter.
Wash apples, remove stems and core the apples. Slice into ½-inch slices. Some prefer to cut apples into 1- to 2-inch chunks.
Pour the cider and vinegar in a medium cooking pot. Add the apple pieces and bring to a boil. Reduce heat and simmer until apples are soft. Cooking time depends on the type of apple and size of the pieces. Time typically ranges from five to 20 minutes.
Press the cooked apples through a colander or sieve. Do not discard liquid. Return the apple pulp and liquid to a cooking pot.
Add the sugar and spices and simmer until the mixture is thick and most of the moisture has evaporated. Test for doneness by placing a spoonful of apple butter on a cool plate. If a ring of liquid does not form around the apple butter, it is ready for eating or canning.