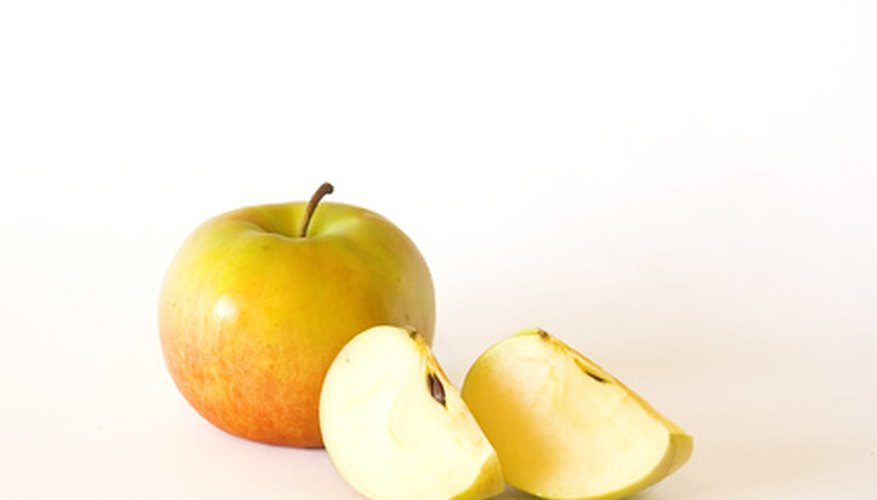 Apple butter, a mixture of apples, spices and sugar that's thicker than applesauce, makes a good spread for toast or peanut butter sandwiches. Make homemade apple butter in fall when apples are in season, and can it to use year-round. Canned apple butter makes a thoughtful gift as part of a food basket or cheese platter. Use any recipe for apple butter and can the finished product while it's still hot.
Fill your pressure canner with water and bring it to a boil. You can begin boiling the water while your apple butter finishes cooking.
Unscrew the lids from the jars. Drop the jars and the screw lids into the water once it boils. Do not sterilize the flat lids with the wax seals yet. Leave the jars in the boiling water for 10 minutes to sterilize them.
Pull the jars from the hot water with a set of tongs, grasping one at a time. Set each jar upside down on a clean dish towel.
Fill each jar with apple butter to within 1/4 inch of the top. Use a ladle to get the apple butter into the jar.
Immerse the circular lid with the wax seal in the boiling water for 30 seconds to 1 minute. Pull it out with tongs and place it on the jar of apple butter. Seal all jars in this manner.
Screw the lid band onto the jar to complete the seal. Then, place the jar in the pressure canner. Seal all jars and place them in the pressure canner.
Close your pressure canner and leave the apple butter in the canner for five minutes (at altitudes below 1,000 feet).
Can all jars of apple butter in this manner. Set the jars right side up for 12 to 24 hours, allowing gravity to vacuum seal them.
Store the jars of apple butter in a dark cupboard once they've properly cooled.