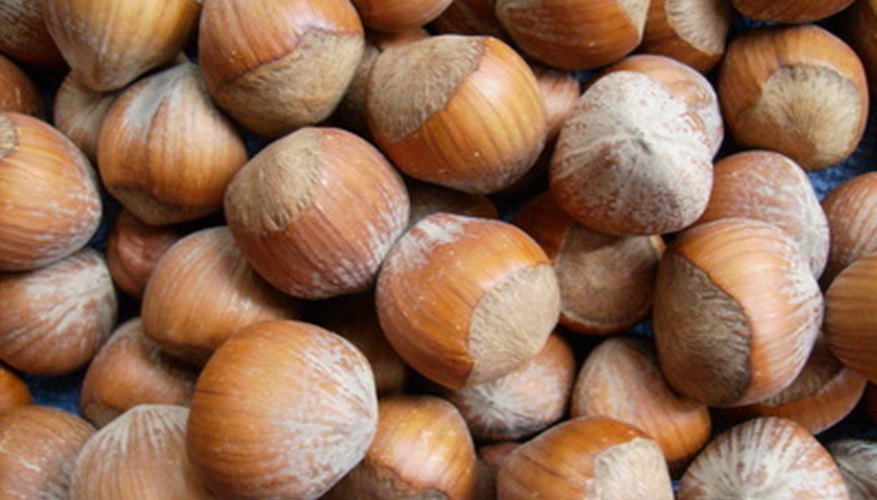 Hazelnuts or filberts, which resemble acorns, can be grown in the home landscape as a tree or a shrub. Hazelnuts can be eaten raw or chopped up and added to recipes such as breads or muffins. Native Americans often added hazelnuts to soups, according to a report from the U.S. Department of Agriculture. Harvest your hazelnuts in the fall when they begin dropping to the ground.
Shake the branches of the hazelnut tree gently. Any nuts that are ready will fall to the ground.
Collect nuts from the ground and place in a large container.
Fill the container with water until it is 2 inches deeper than the nuts. Any nuts that float to the top should be discarded.
Remove the nuts from the water immediately and spread them out in a single or double layer on a screen. A window screen laying flat on a counter will work well, as the frame around the screen will keep it elevated so air can flow underneath it.
Insert the screen of hazelnuts into a large onion sack or other mesh bag and tie the end. The sack will help protect the nuts from pests, but it must have adequate ventilation for good air flow.
Place the nuts in a very warm area with good air circulation for approximately 4 weeks. If you have an area that maintains a temperature of 95 to 105 degrees Fahrenheit, the nuts will only take 2 to 3 days to dry, according to the Hazelnut Council and the Oregon State University Extension Service.
Test the nuts for dryness by cracking one open. A dry hazelnut will be firm and creamy in color. You can also shake the nut, and if it rattles in the shell it is dry enough for storage.
Store unshelled hazelnuts in the mesh bag at a temperature of 34 to 40 degrees Fahrenheit. Shelled hazelnuts can be stored in a sealed container at 65 to 70 degrees for several weeks, or frozen for over a year.