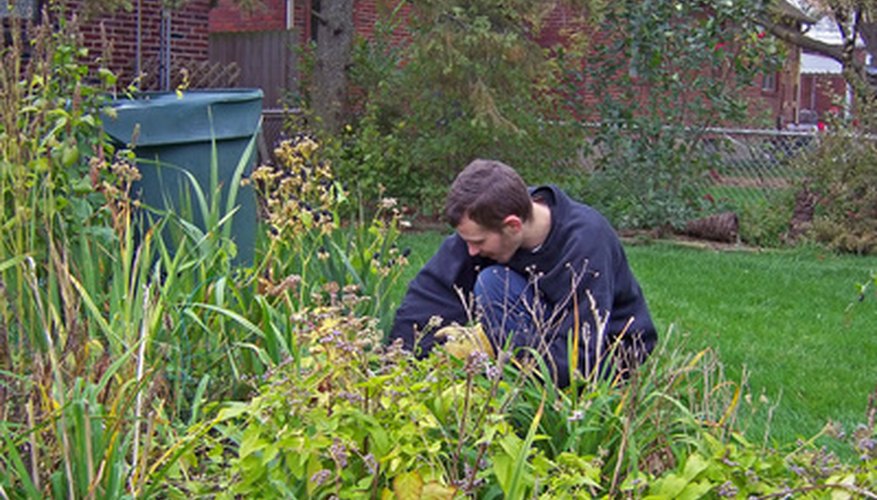 Crab grass can be a gardener's or homeowner's worst nightmare. This weed spreads far and wide and is difficult to get rid of unless you prevent it before germination. Keeping crab grass out of your garden can be tricky, but with some precautionary steps you can ensure that you will get rid of crab grass forever.
Mow your lawn to a height of 2 to 3 inches. This will keep the crab grass in the shade of your grass, so it won't germinate as easily.
Overseed areas in your lawn regularly that are bare to keep the grass healthy and repel crab grass growth. Crab grass is an opportunistic weed and will fill in any areas that don't have prior growth. Overseeding requires raking up the top few inches of dirt, planting grass seed and creating a watering cycle, but it is necessary in crab grass prevention.
Create a watering cycle to help prevent crab grass growth. Do this with deep (up to 6 inches) infrequent watering, about twice a week. Let your ground dry out completely between waterings, as this makes it very difficult for crab grass to germinate. Deep watering such as this also creates a deeper more intricate root system for your lawn grass, thus deterring weed growth even more.
Fertilize your lawn in the fall instead of spring since crab grass is annual and will be killed each year by the first frost. Your lawn will not only look better, but fertilizing in spring provides a jump start for crab grass.
Use a pre-emergent herbicide to provide the most control over crab grass. This kills the seedlings before they even germinate, but it is key to apply the herbicide before the soil is a temperature of 60 degrees F, so application times vary based on your region.