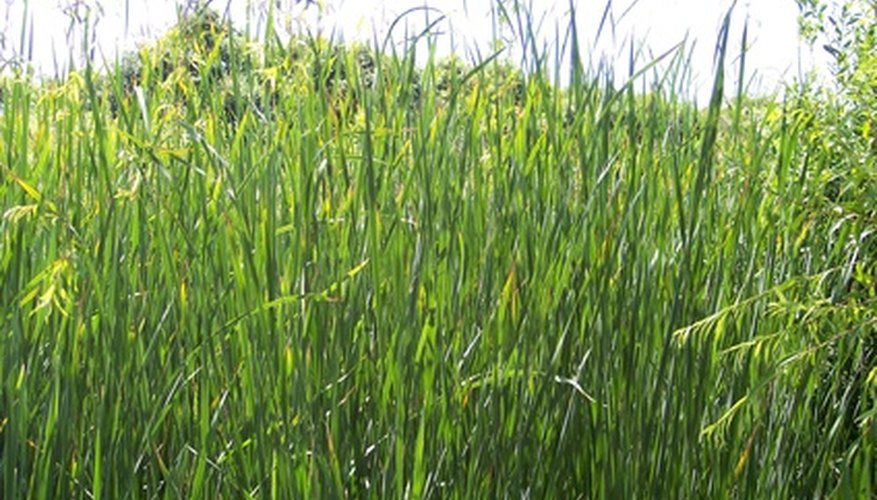 Commonly referred to as squaw or soap grass, bear grass serves as a rich source of greenery for arrangements and centerpieces. Bear grass, contrary to its name, isn't a type of grass; it's a member of the lily family and produces fuzzy brush-like flowers. Making centerpieces with bear grass allows you the opportunity to take advantage of this popular ornamental grass in a variety of themed arrangements. Whether you're using bear grass baskets or bundles of fresh-cut grass, your table centerpieces will come to life with this deep green plant as an addition.
Separate the bear grass into three evenly-sized bundles. Make sure the grass in each bundle is completely straight and even. Bind the grass bundles into place at the ends with a small clear rubber band.
Insert the three bear grass bundles into the fish bowl with the rubber-banded sides pointing downward. Pour about two gallons of water into the fish bowl.
Add the clear and pink marbles to the bowl, allowing them to settle at the bottom to anchor the bear grass into place.
Place the magnolia blossom into the center of the bowl, allowing it to float. Make sure the grass bundles form a sort of frame around the blossom.
Bend the ends of the of the grass bundles very gently so that they bend out over the edge of the fish bowl. Feather the ends a bit. This creates a fringed effect to the centerpiece.