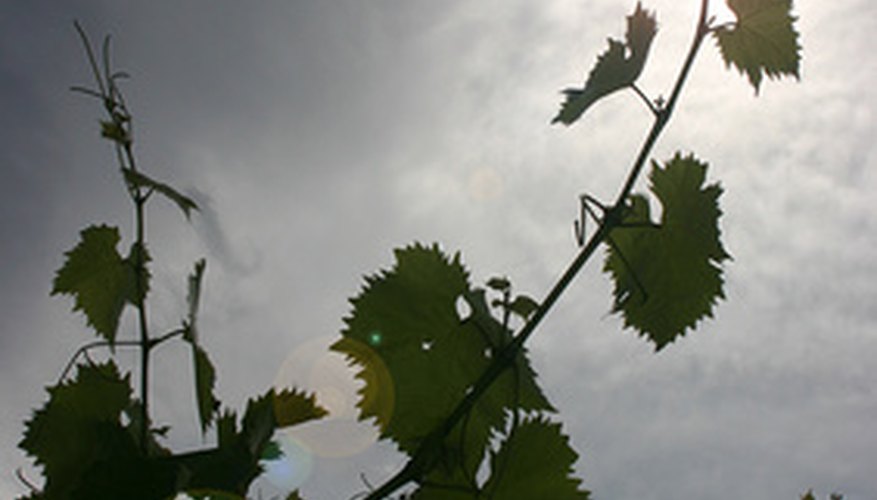 Grapevine wreaths are a versatile and inexpensive way to create a warm and charming living space. Rustic in nature, grapevine wreaths add interest to contemporary decor or add an inviting layer to your cottage or country decorating scheme. Make wreaths for your front door or fireplace mantel. Shape your grapevine into small wreaths to be used as napkin holders. Creating a grapevine wreath is a sustainable and creative way to add color and style to your home.
History
The grapevine has been around since the Neolithic age, and some of its symbolism stems from the development and cultivation of wine. This bountiful plant is depicted in many cultures in coins, art and celebrations. Used as a symbol of abundance, strength and support, the simple and sturdy grapevine has held its own throughout history. Also viewed as a symbol of plant life, the grapevine is often used to show a sense of connection to nature and community.
Basics
The available space and intended use for your grapevine wreath will determine the size and shape of the final product. Standard wreaths measure from 12 inches to 18 inches wide and can be wrapped to various thicknesses. Small, ornament-size wreaths measure from 2 inches to 6 inches wide and can be formed into various thicknesses. You can increase the size of a grapevine wreath by winding more grapevine around the wreath, tucking the ends of the vines securely into the wreath.
Shapes
The typical grapevine wreath is circular in shape. Round, oval and square wreaths can be shaped to suit your needs. Create a form by hammering long nails into a board. Wrap grapevine around the pattern created with the nails and allow the grapevine to dry. Gently remove the dried wreath. Green or thin vines are usually used for shaping. Dry grapevine can crack or split when formed. Soaking dry vines in water before shaping will increase pliability and lessen the chance of cracking or splitting.
Construction
Any type of grapevine can be used for a wreath. The leaves and grapes can remain on the wreath or cut off. The curly grapevine tendrils add texture and whimsy to the final product. Thinner vines, approximately a quarter inch in thickness, are easier to manipulate for small wreaths. Thick grapevines can be used and provide better support for large projects. Create your grapevine projects using lengths of grapevine up to 6 feet long. When the basic shape has been formed, tuck ends securely into the wreath. Wrap additional lengths around the wreath until you get the desired thickness. The main goal is to shape the wreath as it is wrapped. Grapevine wreaths can be unwrapped and reshaped for a more desirable result.
Features
The beauty of a grapevine wreath is that it lends itself to all kinds of decorating possibilities. A plain wreath, draped over a front gate, says "welcome" in a delightful way. Add seasonal decorations or a special theme, such as a football event or a birthday acknowledgment, and you have created a one-of-a-kind decoration. Decorations can be weatherproofed with silk flowers or vinyl ribbon. You can also use live plants, such as evergreen boughs or flowers. Camouflage a pot or other source for watering your plants, and you have formed a living and ever-changing decoration. You can use grapevine wreaths to add interest to a winter garden or shape them to create a fanciful form for morning glories to climb.