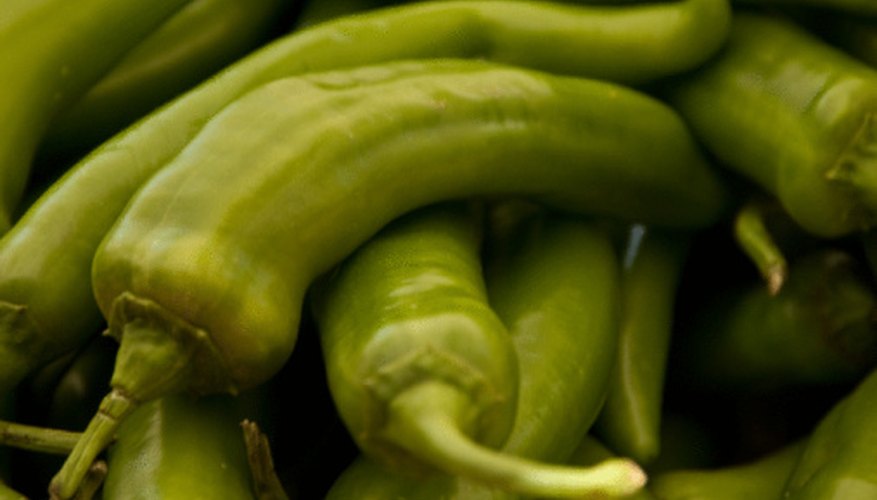 You can choose from hundreds of varieties of pepper plants to grow in your home garden, but bell pepper and hot peppers are among the most popular kinds. Despite the huge array of available varieties, planting instructions remain the same, including how to space the plants and rows. Once the plants set fruit, it typically takes between 35 and 45 days for the peppers to reach maturity, at which point they are ready for harvest, the Utah State University Extension reports.
Assess your garden space to decide how much you want to dedicate to planting peppers. You'll need to space the plants a minimum of 18 inches apart, with the rows set 18 inches to 24 inches apart, the Utah State University Extension reports. Use those figures to determine how much space you require, depending on how many peppers you want to grow. For example, if you'll use two 20-foot rows for growing peppers you can plant 13 plants per row for a total of 26 plants.
Plant your first plant in one corner of the garden space.
Plant subsequent pepper transplants in the first row, spacing all the plants at least 18 inches apart.
Measure off a distance of 18 inches to 24 inches to determine where to start your next row of planting.
Plant the first pepper plant for the second row.
Set the remaining plants for the second row in the soil, making sure all the plants are spaced 18 inches apart.
Things You Will Need
Measuring tape or another measuring tool

Trowel or small shovel