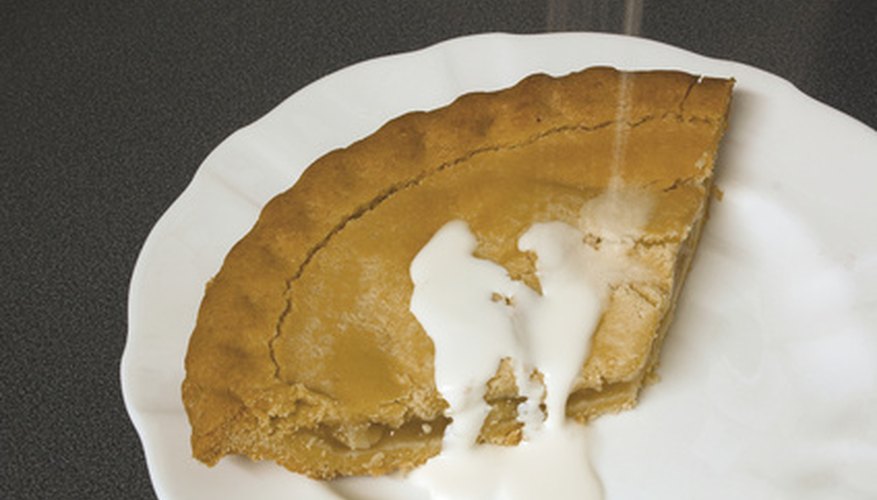 During the summer months, it may take some convincing to heat up the kitchen simply to bake an apple pie. For those who are loathe to do that, the answer is as simple as baking the apple pie on your outdoor barbecue grill. Baking an apple pie on the grill is the perfect way to use the coals from the steaks or burgers and have a hot dessert ready when the rest of the meal is eaten.
Place one pie crust in the bottom of a glass pie plate. You can use a metal pie plate provided it is heavy-duty and not a thin aluminum plate, such as those used with store-bought pies.
Fill the crust with one large can of apple pie filling.
Place the second crust over the filling and flute the edges of the crust together. A simple way to flute the edges is to press them together using a fork. Trim or pull away any excess crust that hangs over the sides of the pie plate.
Poke a series of holes in the top crust using the tines of the fork.
Heat your grill to 350 to 400 degree Fahrenheit. If you have been cooking on the grill at a higher temperature, allow it to cool within this range.
Place the pie on the grill and close the lid. Bake the pie for 30 to 45 minutes or until the top crust is golden brown. Allow the pie to cool for 15 to 30 minutes before slicing.
Things You Will Need
Glass pie plate

2 pie crusts

Apple pie filling

Fork

Grill thermometer
Tips
Using a thin metal pie plate on a grill can allow the bottom crust of the pie to burn before the rest of the pie is fully cooked.

Any two-crusted pies can be cooked on the grill or in a Dutch oven over hot coals.

Serve hot apple pie with homemade vanilla ice cream or whipped cream.