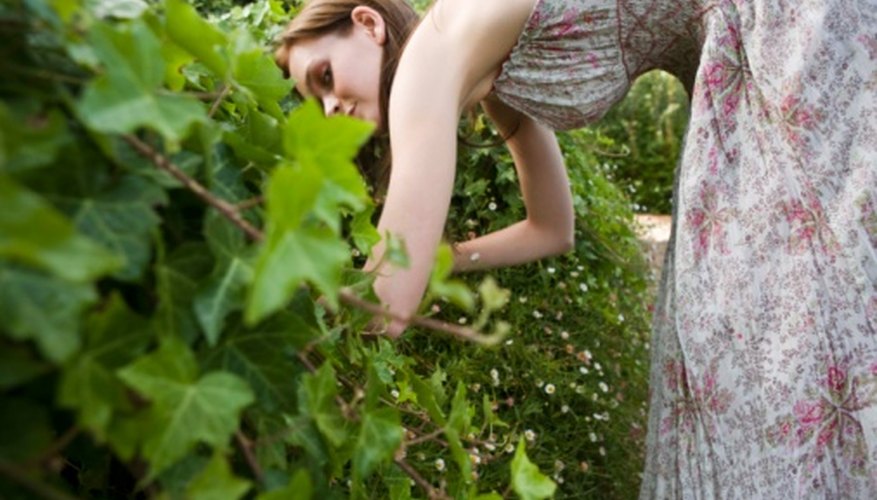 Jupiterimages/BananaStock/Getty Images
There are three main components to proper landscaping -- planting, care and clean-up. Out of these, clean-up is the most-important, since dead leaves can choke other plants and prevent them from receiving the sunlight and water that they need to grow. Removing the leaves by hand is easy. Your bushes and shrubs might be damaged if you use tools to pick up them up. Fallen leaves can be discarded with other yard waste or recycled into fertilizer.
Put on your gloves. Open up the plastic trash bag and place it at your feet for easy access.
Grasp one of the leaves gently but firmly and pluck it from the bush or shrub. Place it in the trash bag. If the leaves are brown and fragile, pick the leaf up from the stem to prevent it from crumbling. Repeat until you have removed all of the fallen leaves.
Discard the trash bag filled with leaves, or recycle them into fertilizer. To make fertilizer from the leaves, scoop a shovel full of soil into the bag, toss in three handfuls of grass clippings, then seal the bag with twine. Poke five to six holes in the bag with the spade, then place it in a shady spot in your yard for three to four months.
Things You Will Need
Gardening gloves

Trash bag

Shovel

Soil

Grass clippings

Twine

Spade
Tip
If not composting your leaves, your municipality or trash service may require that you use paper, biodegradable lawn waste bags.