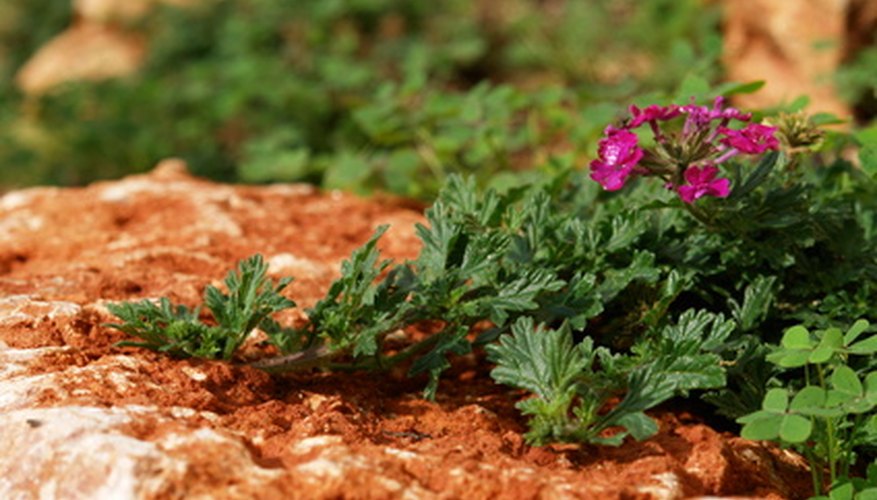 Verbena plants come in varieties that produce various bright colors of fragrant blossoms with yellow or white centers surrounded by pink, red, purple, white, orange and blue petals. Verbena flowers attract butterflies and hummingbirds and add color to your landscape. Verbenas grow to different heights and widths as both perennial and annual plants that produce showy flowers from spring to fall. Caring for the verbena plants starts at planting and continues throughout the entire growing season. Choose verbena plants suited for your location for best results.
Place verbena plants in locations providing full sun and well-draining soil. Allow enough space between each plant for the verbena to spread, which can vary from 12 to 24 inches or more. Read the label provided on the plants for spacing information.
Dig planting holes the same depth of the containers holding the verbena plants. Place the plants in the hole, backfill the hole and soak with water to settle the soil around the plants.
Water the growing verbena plants with an inch of water weekly throughout the growing season, unless rainfall provides this.
Apply a fertilizer, such as 19-5-9, each month to the verbena flowers as directed on the packaging for the duration of the growing season.
Use pruning shears to cut away spent verbena blooms on the plants. Trim the top fourth of the stems to stimulate branching and additional blooms.
Things You Will Need
Hand trowel

Water

Fertilizer

Pruning shears