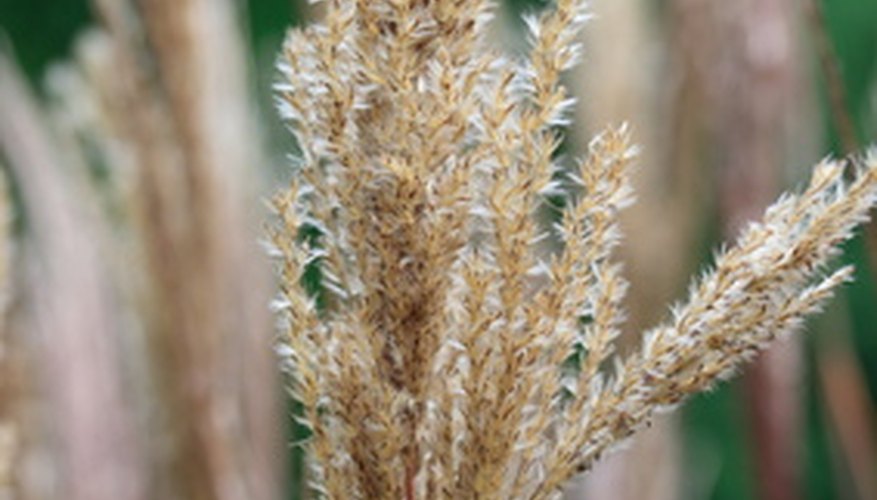 ornamental grass image by Alison Bowden from <a href='http://www.fotolia.com'>Fotolia.com</a>
Borders are an ideal way to accent gardens, lawns and walkways. They provide lively focal points to the landscape and are attractive when viewed from any angle. Plants like perennial flowers provide long-lasting color to the border and, paired with short-term annuals, create a sea of texture and vibrancy. When designing the garden border, consider the style of home and surrounding colors. Have fun mixing together unusual foliage and blooms to create a one-of-a-kind design.
Edibles
Herbs and vegetables have bright and colorful foliage that creates a vibrant garden border. Edging a garden path, lawn or perennial bed, herbs and vegetables also look attractive alongside flowers and grasses. Herbs like salvias, basil, fennel and dill have upright, mounding forms and unusual textures and colors that create a showy border display. The lime green colors and deep purples found in basil varieties help to complement bright vegetable plants like peppers and eggplants. Pepper varieties like ornamental peppers have bright colors of red, orange and yellow and provide dramatic color to the garden border. As you brush against the herbs along the border, their fragrance permeates the garden.
Flowers
Perennial and annual flowers provide a range of sizes and shapes, as well as dramatic texture to the border. Perennials like coneflowers, coreopsis, Russian sage and black-eyed Susan produce masses of blooms that create fiery colors of orange, yellow and red along the border. With their bright blooms, have fun pairing them together to create a red or yellow themed border, coupled with subtle accents of green. Drought-tolerant, they withstand periods of limited moisture without sacrificing their blooms.
Drought-tolerant annuals like calendula, blanket flower, zinnia and verbena provide short-term color and help to fill in gaps among the perennials. Verbena's low-growing, trailing habit makes it ideal along the front of the border. Zinnia grows in a rainbow of colors to create a dramatic flower border.
Grasses
Borders filled with ornamental grasses add architectural height and structure to the landscape. Their arching to upright stems help to complement nearby plants and flowers and provide a backdrop to the border. Ornamental grasses like feather reed grass grow up to 4 feet tall to create an vertical accent plant. Their loosely feathered inflorescence or plumes sit atop the upright, slender, bright green stems. Low-growing, small mounds of blue fescue, an ornamental grass variety, are ideal planted between bright flowers and plants. Their fine texture and dense, tufted mound creates ground cover along the border.