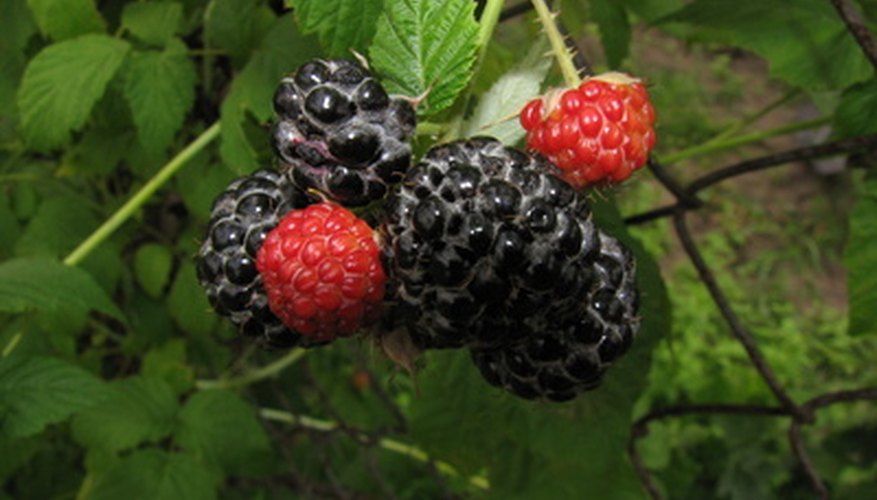 The blackberry bush is a bramble plant that grows best when given yearly pruning maintenance to promote new cane growth. Removing non-fruiting canes will help manage plant growth and increase fruit production for the following years. Pruning also decreases the growth and spread of disease since it opens the bush for air circulation around the canes. Always discard diseased canes and wash pruning tools to lower the chance of the disease spreading to other plants.
Disinfect all pruning tools prior to using by wiping the blades with isopropyl alcohol before and after pruning each bush. This will prevent the spread of disease.
Prune the blackberry bush in the fall season after harvest is complete by removing the 2-year-old cane growth close to the ground so there are five to seven canes remaining on each bush.
Remove the dead and weak canes in the spring season before the bush begins to produce blossoms. This will stimulate new cane growth.
Remove the tips of the current canes once the growth begins in spring so each is 24 to 30 inches in length. Do not prune new cane sprouts, as they need to reach maturity by the second growing season to produce fruit.
Prune one inch from the end of each new cane spout that does not reach the length of 24 inches. Removing a portion of these canes will stimulate it to grow and mature by the next year for fruit production.
Prune all lateral growing canes in the spring to a length of 18 inches. This will limit their growth and prevent them from becoming damaged during the dormant season as these are fast growing canes.
Tie the blackberry canes to support poles or wires after the spring pruning session to prevent damage to the bush and support the canes once the fruit-producing season begins.