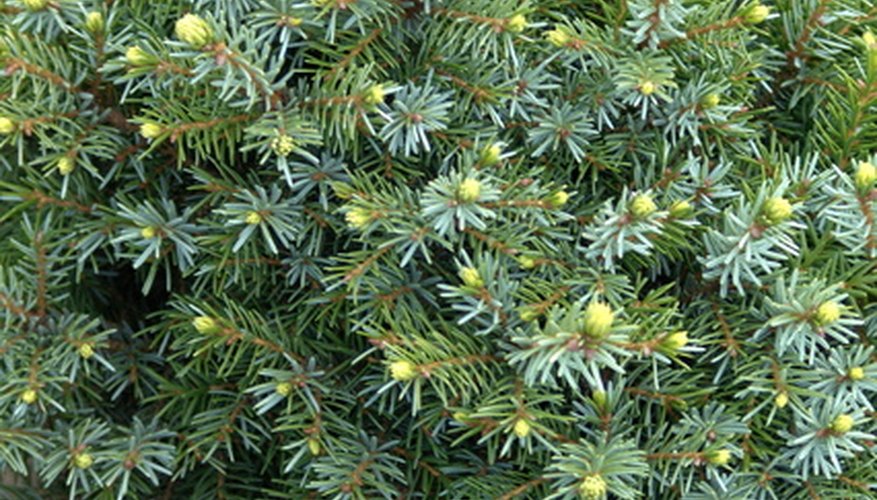 A drive through New England during the Christmas holidays reveals evergreen wreaths in all sizes and shapes. The cold winter weather keeps evergreens fresh and alive for months making them the preferred material for wreaths. In warmer climates, the life of the wreath is somewhat shorter. Whatever the time of year, you can make a wreath to display on a business or the side of a barn using a hula hoop as a base.
Gather evergreen boughs from your property in late fall once cold weather has arrived. Cold weather makes picking easier as the branches snap easily. Traditional evergreen wreaths are made from balsam fir, as the needles are full and round, but other evergreens can be used. Prepare the evergreen boughs, or "tips," by cutting or snapping them to lengths of 6 to 8 inches.
Lay the hula hoop in front of you on a table or work bench. This allows you to work in the standing position without bending or stooping.
Twist the end of your wreath wire around the hula hoop and secure tightly. This is your starting point for the wreath. Start at the top center of the hula hoop.
Gather several tips of evergreens into a bundle. Check that all evergreens are facing upward and the ends of the branches match up perfectly.
Position the bundle of evergreens on the hula hoop, holding the tips securely with your left hand. Stems should point to your right. Grasp the wreath wire in your right hand and wrap it around the bundle of tips several times to secure them to the hula hoop base. Wire should be wrapped around the bottom 2 to 3 inches of the stems.
Flip the entire wreath so the starting point is now directly in front of you and the backside of the wreath base faces upward.
Gather another bundle of tips and place them on the backside of the first bundle. Check that the right side of the evergreens is facing upward and that stems match exactly. Secure in place with wire.
Flip the wreath back to the original position. Gather another bundle of tips and place them on top of the original bundle, so the ends of the branches are 3 to 4 inches beyond the first bundle. The causes the evergreen tips to overlap as you complete the wreath.
Work your way around the wreath by flipping the wreath each time to attach tips to the opposite side. Match the position of tips from the front side when securing tips to the back, and offset new bundles by 3 to 4 inches on the front each time.
Tuck the bare stems under evergreen boughs to finish off the wreath when the entire hula hoop is covered. Loop the wire through the wires used to secure the tips to the wreath to secure the end.