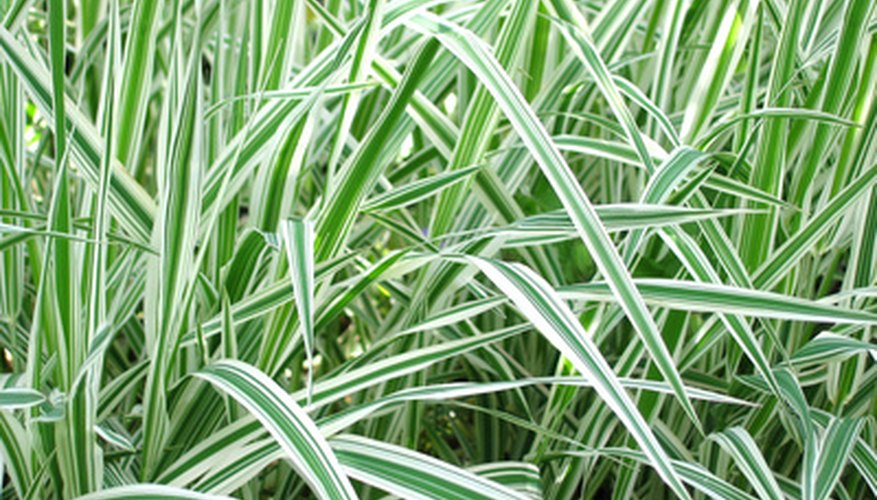 ornamental grass image by Edsweb from <a href='http://www.fotolia.com'>Fotolia.com</a>
Ornamental grasses can be used as accent plants in the landscape. They can also be the predominate plant in a prairie style garden. Grasses are also used liberally in draught gardens. The key to making ornamental grasses look interesting, is by using a variety of different blade heights and colors.
Large Ornamental Grasses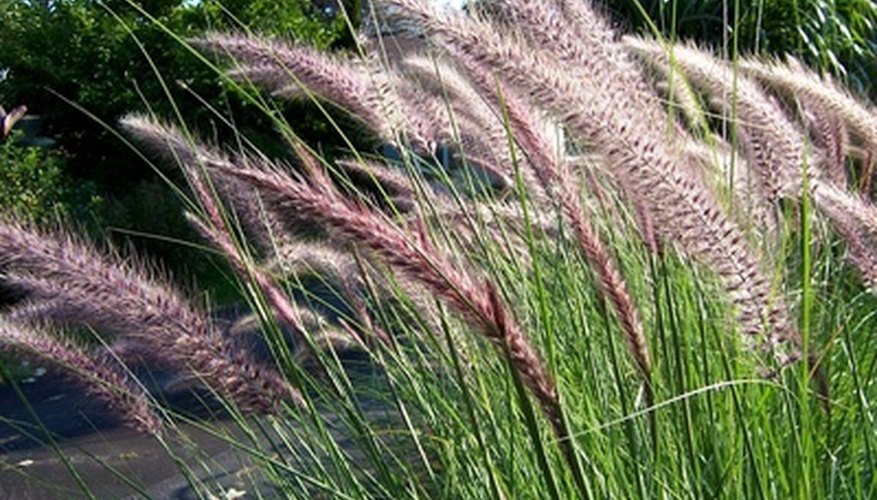 native grasses image by Lucy Cherniak from <a href='http://www.fotolia.com'>Fotolia.com</a>
Maiden grass (Miscanthus gracillimus) is a popular plume type of grass. The blades will develop into a 3-foot clump. When the flower stalk appears this plant can reach up to 5 feet tall. Along with the plumes, the blades turn bronze colors in the fall. There are other attractive varieties of miscanthus. Flame grass (Miscanthus 'Purpurescens'), has green blades that turn bright red in the fall. Porcupine grass (Miscanthus sinensis 'Strictus') is a bright green grass with yellow bands all along the blades. This one is even taller, reaching 6 to 7 feet in bloom. These grasses are hardy to USDA zone 5. A large tropical semi- evergreen grass is New Zealand flax (Phormium tenax). This grass has wide colorful blades. Most varieties have 3 to 4 feet long blades, but include smaller varieties too. The hardiest varieties are those with bronze to red blades, such as 'Atropurpurea' and 'Rubra.' There are also striped New Zealand flax with pink or yellow edges, as well as those with nearly black blades. New Zealand flax is hardy to USDA zone 8.
Smaller Ornamental Grasses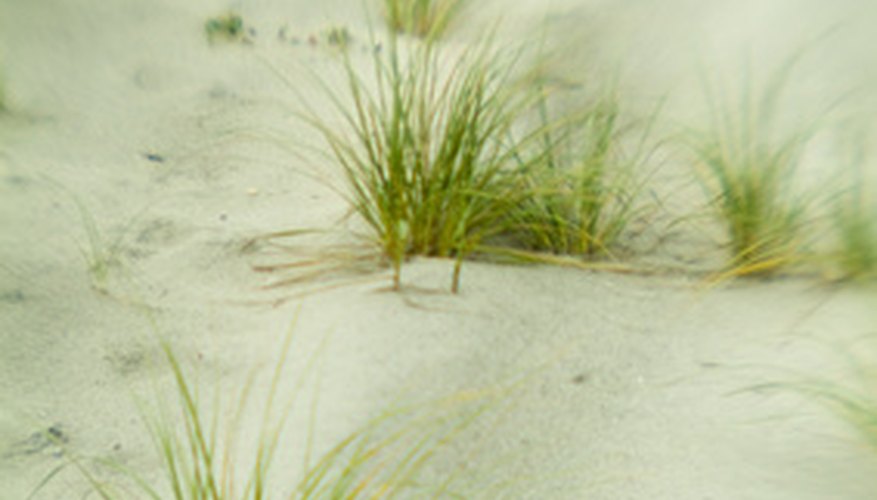 wild grasses on sand dunes image by Jorge Moro from <a href='http://www.fotolia.com'>Fotolia.com</a>
Tufted hair grass (Deschampsia 'Northern Light') has pink and cream stripes and 16-inch blades. It is a very cold hardy grass, to USDA zone 4. For those wishing to install a blue grass, try (Festuca glauca 'Elijah Blue'). This one will form a tight clump with 19-inch blades. Japanese blood grass (Imperata cylindrica 'Red Baron'), turns bright red in late summer and fall. It is well mannered most of the time, but can be somewhat invasive in some climates. It grows loosely to 1 foot, rather than into a mounding clump. Blood grass is hardy to USDA zone 5. Japanese Forest Grass (Hakonechloa) develops swathes of 1 to 2 foot blades. It has a bamboo-like appearance, and is a good ground-cover for partially shady positions. The species is green, but there is a cream striped variety 'Variegata,' as well as a yellow bladed forest grass 'Aureola.' All three varieties are hardy to USDA zone 5.
Evergreen Ornamental Grasses
wet grass image by Paula Gent from <a href='http://www.fotolia.com'>Fotolia.com</a>
A popular smaller "ever black" grass is Black mondo grass (Ophiopogon planiscapus 'Nigrescens'). It has shiny black blades that mature to 8 inches tall. Later on it develops a spike of purple flowers, followed by black berries. There is a green variety of mondo grass (Ophiopogon japonicus) with similar features. There is also a tiny green variety that reaches a mere 3 inches tall. Mondo grass is hardy to USDA zone 5. There are evergreen Japanese sedges. One reliable variety is (Carex morrowii 'Ice Dance'), with bright green blades, that are edged in cream. It develops an interesting seed stalk in spring. 'Ice Dance' will develop into a 2-foot mound, and spreads by underground runners. There is a similar variety with yellow stripes called (Carex morrowii 'Gold Band'). Evergreen sedge is hardy to USDA zone 3.