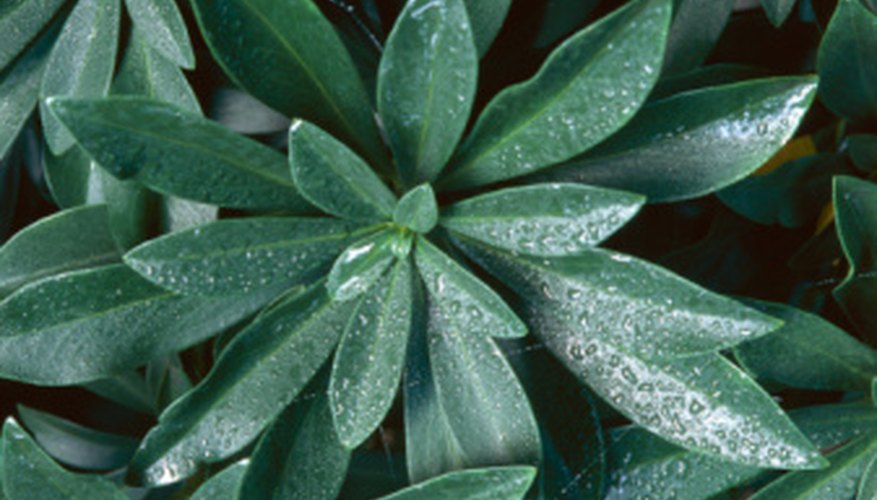 Dynamic Graphics Group/Dynamic Graphics Group/Getty Images
Spurge is a perennial weed that grows rapidly and has created problems for parts of the United States, like North Dakota, where it spreads across grassland quickly. That state had 1.5 million acres of leafy spurge in 2001. While spurge is native to Europe and Asia, it was introduced to the United States in 1827. It normally grows two to three feet tall and has woody crowns that burrow into surface soil and from which several tall stems grow upward. Leaves start blue green and turn yellow or orange-red in the fall. It emerges in early April and oozes a milky juice called latex when cut. Herbicides are effective in controlling its growth.
Look for spurge flourishing on grazing land, pastures and along wooded areas in June and again in early to mid-September.
Apply an herbicide proven effective at killing spurge, such as 2 or 4-D dicamba, when the weed is most susceptible to herbicides (June and early to mid-September). Confirm its vulnerability by looking for true flowers with seeds on the weed or when stems develop new re-growth in the fall.
Combine herbicides like glyphosate and papaverine in June for better success at killing the weed. Apply a glyphosate herbicide to the weed in early to mid-September, after fall re-growth has begun but before the first frost occurs.
Continue to treat spurge in the spring and fall with a combination of herbicides until at least 90 percent of the weed cover has been eradicated. Stopping before this level of eradication will allow spurge to grow back.
Things You Will Need
2 or 4-D dicamba herbicide

Glyphosate herbicide
Tip
If you find spurge growing in a small, confined area of your backyard or garden, treat it with a glyphosate herbicide immediately in early April as soon as you notice emergence to prevent its spread.
References