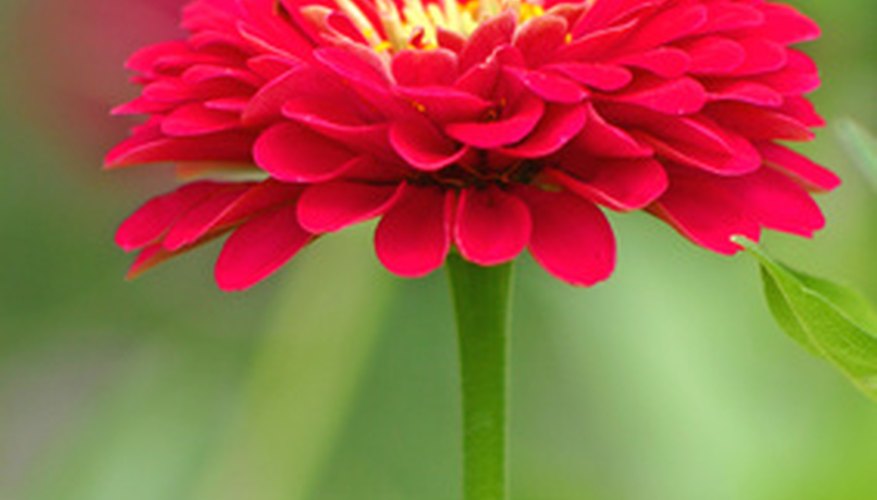 Plants grow in wide variety of types including, annuals, perennials and shrubs. Each plant within that type are given one distinct Latin name, and only one. The first word in the Latin or scientific name is the genus that is the larger grouping, such as boxwood shrubs, whose genus is Buxus. The second word is the species or specific epithet within that genus.
Zinnia
Zinnia (Zinnia elegans) is an annual flower with a clumping growth habit and vigorous growth rate. It grows 1 to 3 feet tall and has 2-inch-wide, flowers that range from single and semi-double to double in form. A butterfly-attractant, zinnia grows in a wide range of colors including, red, yellow, pink, purple and white and bloom from early to late summer. Hardy, they are both deer- and drought-tolerant and are ideal grown in a cutting garden or edging a flowerbed or border. Zinnia grows best in full sun and well-drained, fertile soil. To promote a long blooming season on zinnia, deadhead the spent blooms as soon as they are noticeable. Zinnia is hardy in all USDA zones.
Purple Coneflower
Purple coneflower (Echinacea purpurea) is a clumping perennial with a moderate growth rate. It grows 3 to 6 feet tall and has a spread of 1 to 3 feet wide. The large, 6-inch-wide, deep pink petals or rays surround the spiky, golden brown disk that attracts butterflies and birds to the garden. Beginning in midsummer and lasting into fall, purple coneflowers produce masses of blooms. Drought-tolerant, they withstand periods of limited rainfall and are ideal in arid, dry climates. Purple coneflowers are also tolerant of heat, humidity and poor soil. They grow best in full sun and well-drained, deep soil. Plant purple coneflowers in USDA zones 3 to 9.
Common Boxwood
Common boxwood (Buxus sempervirens) is a slow-growing evergreen shrub that has medium to fine texture and a dense, rounded form with foliage that grows to the ground. They grow 15 to 20 feet tall and 10 to 15 feet wide, making for an ideal screening plant among the garden. The fragrant, yellow flowers on common boxwood emerge in spring to light up the bush. The dark green, lustrous leaves grow up to 1-inch long and cast an orange tinge in fall. Drought-tolerant, common boxwood are easy to transplant. They grow best in full sun to part shade and well-drained, moist soil. Plant common boxwood in USDA zones 5 to 8.