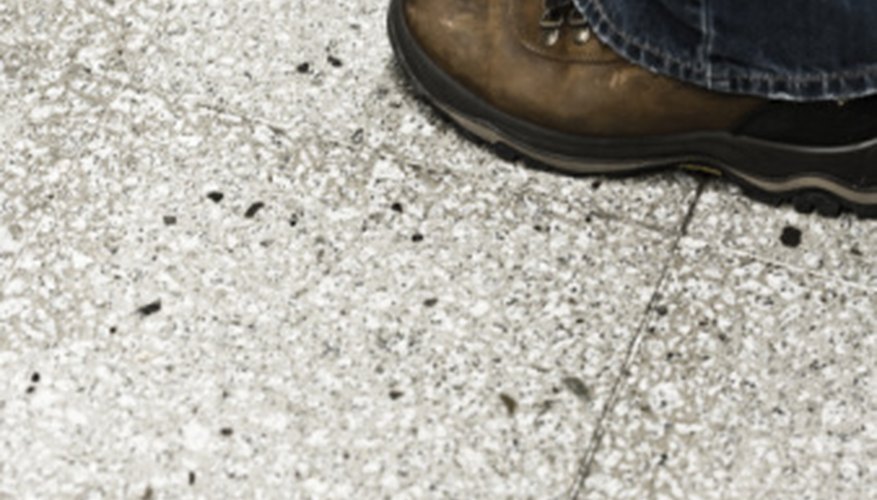 Jupiterimages/Photos.com/Getty Images
Sealing your concrete floor will protect it from moisture and stains. Grinding your concrete floor before sealing it will smooth out the rough texture, remove any residual grease, and give you the ability to apply a smooth coat of sealer. For the avid DIYer, this will give you a professional-looking floor without the need for a flooring expert.
Scrape any grease buildup off the floor with a metal scraper like a putty knife. Grease buildup is common on garage floors, especially on the area where you park your car.
Scrub the floor with a degreaser or with acid etching to remove any dirt and grease left on the floor. A wire brush will help to remove loose dirt. It is important to remove as much dirt as possible before sanding to avoid clogging the sanding pads with grease. Once you clean the floor, rinse it with clean water and allow the floor to dry.
Repair any cracks in the floor with concrete patching and wait for the patching to fully dry before moving on. It usually takes 24 to 48 hours.
Sand the surface of the floor with a walk-behind concrete sander. You can rent a concrete sander at many equipment rental centers. Most sanders are electric and work like a floor buffer. A sander will remove any previous sealer and will remove residual dirt and grease from the surface.
Apply one coat of epoxy floor sealer with a lamb's wool paint roller and wait for the paint to dry. Follow the directions on the paint can for elapsed time between coats. Add a second and third coat if needed. Allow at least 72 hours before parking a car on the concrete. If you are not parking a car on it, you can use the room within 48 hours.
Things You Will Need
Scraper

Acid etching compound or degreasers

Wire brush

Concrete floor sander

Clean water

Rags

Epoxy sealer

Paint roller