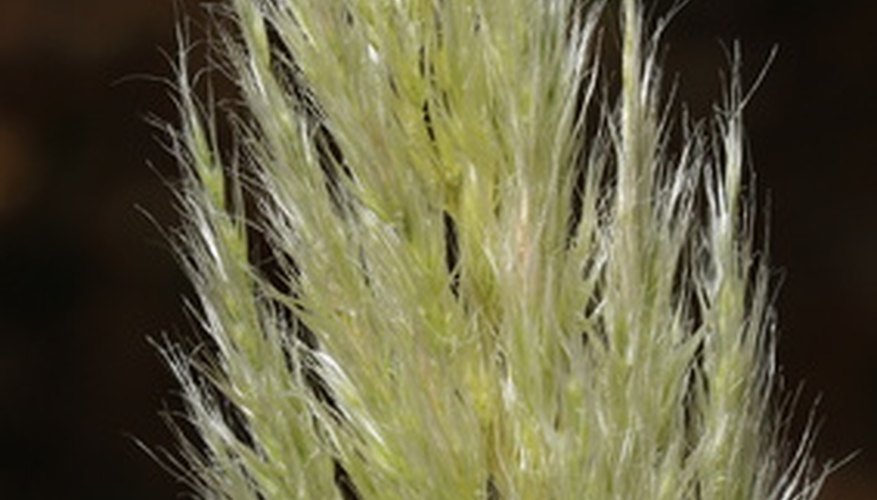 pampas grass image by Alison Bowden from <a href='http://www.fotolia.com'>Fotolia.com</a>
Ornamental grasses soften a driveway's lines while adding texture, color and form to the surrounding landscape. These plants can be less than 2 feet high, or towering close to 10 feet tall. Equally attractive massed in groups or scattered along a driveway as single specimens, these grasses give driveways a warm and welcoming look.
Eulalia 'Autumn Light'
Eulalia (Miscanthus sinensis) 'Autumn Light' has 4-to-5 feet high and wide mounds of deep green, arching leaves. As temperatures drop in the fall, its foliage first becomes yellow with a purple cast and then tan, according to the Missouri Botanical Garden. In early fall, its upright stems of small, coppery blooms also appear, giving way to feathery white seed heads. They remain on the foliage into winter. Hardy to minus 20 degrees Fahrenheit, this eulalia is susceptible to blight fungus and mealybugs. A good performer in both sand and clay, it likes full sun to partial shade and averagely moist, well-drained soil.
Lovegrass 'Bend'
Named for the bending tops of its 1/4 inch wide, 2 foot long leaves, lovegrass (Eragrostis trichodes) 'Bend' is a dark green ornamental grass with mid-to-late summer blooms. The plant's foliage may bow to the ground beneath the weight of the abundant, pinkish-purple blooms, notes the Missouri Botanical Garden. Staking the grass or surrounding it with a fence will solve the problem. Handling temperatures to minus 20 degrees F, 'Bend' retains its bronze fall color into winter. This largely disease- and pest-resistant grass makes an attractive driveway specimen or mass planting. Tolerant of heat and drought, it flowers best in fertile, well-drained sandy locations and full sun.
Purple Moor Grass 'Variegata'
Purple moor grass (Molinia caerulea subsp. caerulea) 'Variegata' has a clump of narrow, 15- to 18-inch leaves with green stripes on a creamy background. Its purple-bronze flowers occur between July and September on stems reaching up to 30 inches high. Attractive in dry floral arrangements, the blooms become golden tan as they mature, complementing the plant's yellow fall foliage. Although it is hardy to minus 40 degrees F, 'Variegata' dies back in the winter. Cutting its remaining leaves back in early spring benefits new growth.
This slowly growing grass can take years to reach its full size. The Missouri Botanical Garden recommends buying fully-grown plants. 'Variegata' is an attractive driveway accent or group plant. It likes acidic (pH below 6.8), moist, well-drained soil. Plants flower best in sunny, cool locations.