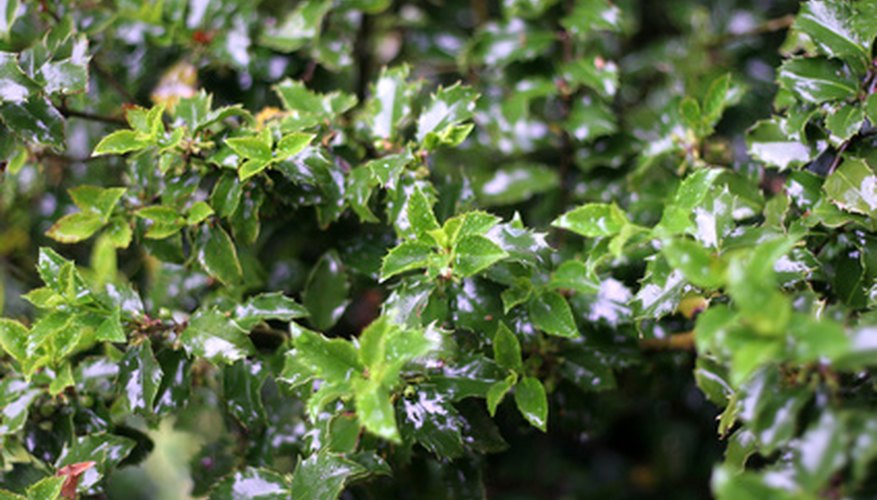 Wreaths made from natural foliage can add beautiful decor to an outside door or wall in your home. Due to the living nature of the foliage, if you want your wreath to last, you must preserve the leaves before you construct the wreath. If you use boxwood foliage from your landscape to make a wreath, preserve the boxwood stems first and then use them to make a boxwood wreath. Once you preserve this foliage, it may last many years as a beautiful home decor item.
Cut the boxwood stems from your box shrubs using the pruning shears. Cut stems 18 inches long to enable you to wrap and twine them around the wreath form.
Mix 1 part glycerin and 2 parts warm water in a bucket.
Place the boxwood stems onto a firm surface (such as concrete) and pound the bottom 1 inch of each stem with a hammer to crush the stems. This will facilitate the stems absorbing the glycerin mixture.
Place the prepared stems into the glycerin mixture immediately and leave them there to soak. Replenish the depth of the glycerin and water as necessary to keep it at least 6 inches deep at all times.
Watch the progress of the boxwood stems as they soak up the glycerin and water. When you see the leaves change color all the way up to the leaves at the top of the stems, the preservation process is finished. This may take up to three weeks. Remove the boxwood stems from the glycerin water.
Wrap the boxwood stems around the wreath form to create the wreath. Attach the stems to the form with 4-inch lengths of craft wire by twisting the wire around the stems securely. Continue adding stems to the wreath form until you have a full and lush wreath. Add a ribbon bow to the wreath to finish the wreath.