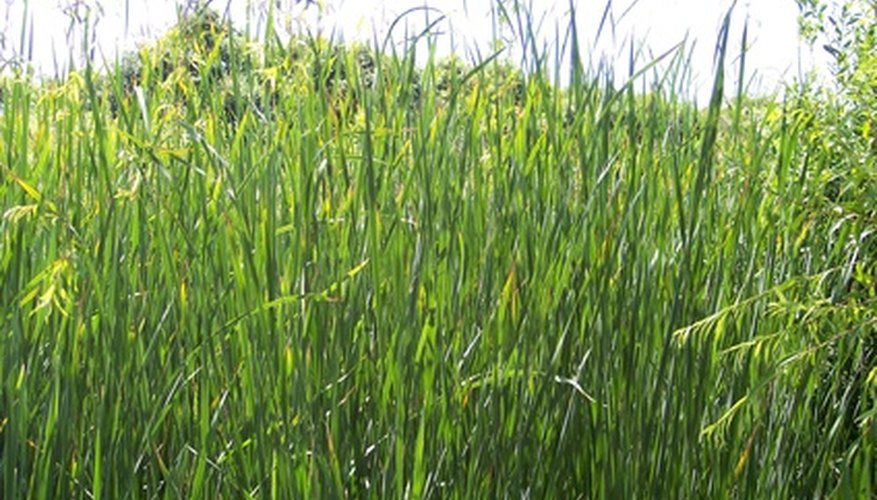 Maintaining a perfect grass lawn or yard requires a lot of time and attention. In addition to mowing, watering and feeding, you must control weeds that will choke out your healthy grass. Weed and feed products are designed to simultaneously fertilize the grass and kill weeds, saving you time and effort. Use these products with caution to avoid harming the grass.
Season to Apply
Most grass lawns and yards are fertilized at least twice per year, generally in the spring and fall. The goal of using weed and feed is to apply the product when the weeds are actively growing, so that they absorb the herbicides and die back. The best time to apply weed and feed is in the spring, when weeds are sprouting. During active growth, the weeds will absorb more of the chemicals and die back faster. Applying the weed and feed in winter when weeds are not growing or in fall when they are dying off for the season will have little effect.
Climate to Apply
Apply weed and feed on a day when no rain is expected for at least 48 hours, and do not water the lawn for 48 hours after application. Water applied to the grass after application can wash away the herbicides as well as the food, making them ineffective for either purpose. A rainstorm or watering immediately following application can also wash the chemicals into streams or groundwater, posing a contamination problem.
Grass Seed Application
If you are laying new grass seed or sod on your landscape, be extremely cautious when using weed and feed. The herbicides contained in the weed and feed product will not harm established, mature grass, but can slow or prevent germination of grass seeds. The herbicides can also stunt the growth of roots from new sod. If you want to use weed and feed before seeding or sodding to kill weeds and prepare the soil, wait at least six weeks after application to plant. For newly-sown seed or sod, wait until you have mowed your lawn four times before applying weed and feed. That will provide a sufficient time frame to ensure the grass is mature enough to withstand the herbicides.
Application Tips
Lightly dampen the lawn before applying weed and feed so that the granules stick to the blades of grass and weeds for more immediate and effective absorption. Carefully read and follow all instructions on the weed and feed product regarding application rates, as these rates can vary by product. Too much weed and feed can seriously scorch the grass, causing drying out and ugly marks on the grass.