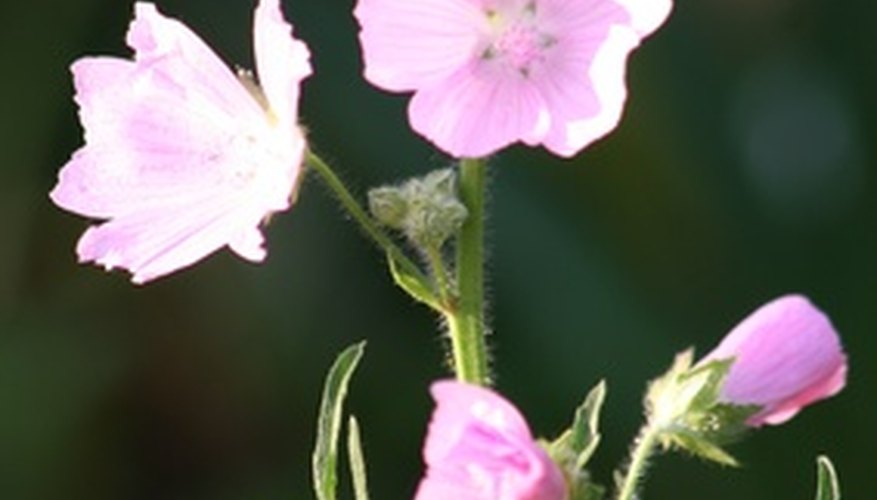 The Lavatera mallow, or rose mallow, is known in the botanical world as Lavatera trimestris, and originates in southern Europe. It is a good landscape plant in many parts of the United States, where it is grown outdoors as an annual flowering plant in more northerly climates; you can overwinter it in many warmer areas. It's a shrub that reaches 3 feet in height and produces an abundance of large pink flowers that resemble a hibiscus in spring.
Plant your rose mallow in a sunny location with average soil that has good drainage. You can also grow your Lavatera in a container with porous, rich soil. Make sure the pot you choose will be large enough for this plant when it attains its adult size.
Allow the soil to dry slightly between waterings. You can check the moisture level by sticking your finger into the soil about 1 or 2 inches deep. If it feels dry, soak your plant well.
Fertilize potted Lavateras with a half-strength dilution of a balanced liquid fertilizer every week during the active growing season, from early spring through mid summer. Fertilize plants in the ground once each month with a balanced fertilizer, mixing and applying it according to label instructions. When flower buds first begin to appear, switch to a lower nitrogen plant food to force more blooms.
Prune your Lavatera in March to bring the previous summer's shoots down to 9 or 10 inches from the ground. This will encourage new growth and keep your plant growing in a compact, attractive shape. If frost damage occurred over the winter, cut all damaged branches back to healthy growth.
Pinch off dead flowers to encourage more blooms. If you leave a few flowers to form seeds, you can collect them and plant them the following spring to create more plants.
Things You Will Need
Average garden soil

Container (optional)

Fertilizer

Pruning shears