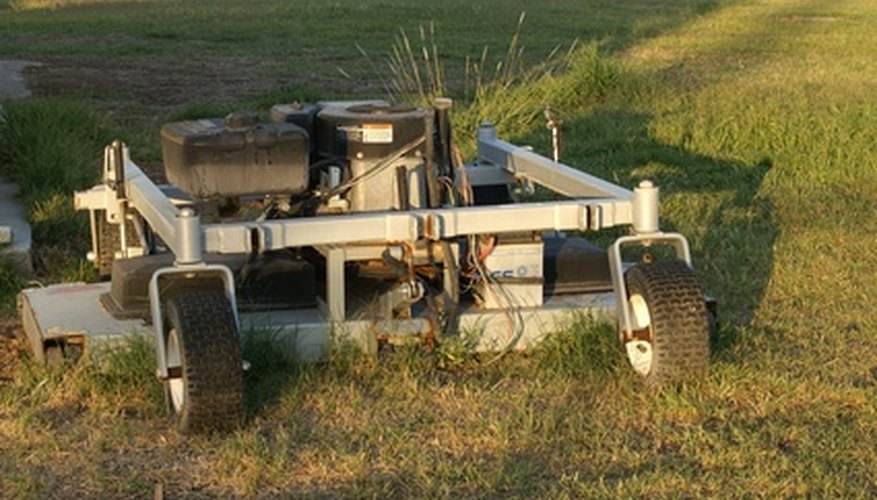 Riding lawn mowers utilize spindle assemblies for transmitting power from the belt to the mower blades. The spindles contain one or two bearings within the housing to keep the shaft aligned and reduce friction. While some lawn mower manufacturers lubricate and seal the spindle bearings to last for the life of the mower, many others provide a zerk fitting for servicing the bearings periodically with grease.
Clean the mower deck with a garden hose and nozzle to remove grass cuttings and loose debris. Keeping this area clean after each use will prevent dirt and other contaminants from getting into the bearings.
Remove the spindle guards from the deck using a ratchet and socket. Place the bolts in a container for safekeeping until ready to reinstall.
Locate the grease fitting tapped into the spindle housing. Wipe any dirt or debris from the fitting before applying grease. Spraying the fitting with a light oil before wiping will loosen any hardened debris that could be pumped into the bearing if left in place.
Use a multipurpose, lithium-based grease for greasing lawn mower or tractor components. An NLGI No. 2 grade grease is best for this application.
Attach the grease gun zerk fitting to the grease zerk on the tractor's spindle. Pump about three strokes on the grease gun. If grease is observed flowing around the grease zerk and grease gun fitting, re-attach the hose-end fitting on the zerk to get a better connection.
Turn the spindle by hand two to three revolutions to distribute some of the grease around. Apply two more pumps on the grease gun before removing it from the fitting. Grease remaining mower blade spindles in the same manner.
Reinstall the spindle guards and attach the bolts using the ratchet and socket. Start the mower and engage the blades for several minutes to fully distribute the grease throughout the bearing/spindle area.
Things You Will Need
Garden hose

Grease gun

Ratchet and socket

Shop rags

Light spray-oil
Tip
Leave a small dab of grease on the grease zerk after servicing to serve as a barrier against dirt.
Warning
Never mix grease types or brands without extensive compatibility testing.