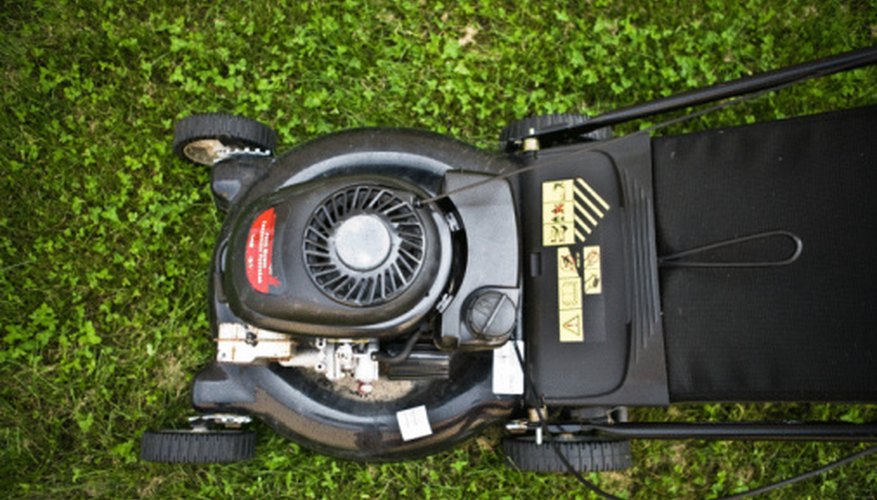 A lawn mower tune-up is an important part of owning a Poulan mower. Before each cutting season it is important to clean the mower, inspect it for damage, change the oil and perform a basic engine tune-up. The tune-up will help to prevent operating problems that arise as the result of clogged filters, worn spark plugs or excessive accumulations of debris such as rodent or insect nests.
Remove excess dust and debris from the engine with a stiff bristle brush. Look for signs of rodent or insect nests that were built during the off season around the cooling vents of the engine. Brush the debris away to prevent engine over-heating during operation.
Locate the fuel line with attached fuel filter that runs from the fuel tank to the carburetor. Place a small container under the fuel filter to catch any gas drips. Clamp off the fuel filter above and below the filter in the fuel line. Remove the clamps that hold the filter in place and pull the filter from the lines.
Remove the filter line coming from the fuel tank as it can be damaged during filter removal. Connect a new fuel line to the tank outlet and install a replacement fuel filter. Slide the ends of the filter into the fuel lines and secure with the clamps.
Remove the spark plug wire from the spark plug. Loosen and remove the spark plug from the Poulan mower engine. Install a suitable replacement spark plug into the engine and tighten with the spark plug wrench. Connect the spark plug wire to the tip of the new spark plug.
Remove the cover from the air filter housing. Pull the pre filter and filter from the housing and dispose of properly. Install and new replacement filter and pre filter into the housing and secure in place with the housing cover.
Things You Will Need
Stiff bristle brush

Clamps

Replacement fuel filter

Container

Replacement fuel line

Spark plug wrench

Replacement spark plug

Replacement pre filter

Replacement air filter
References