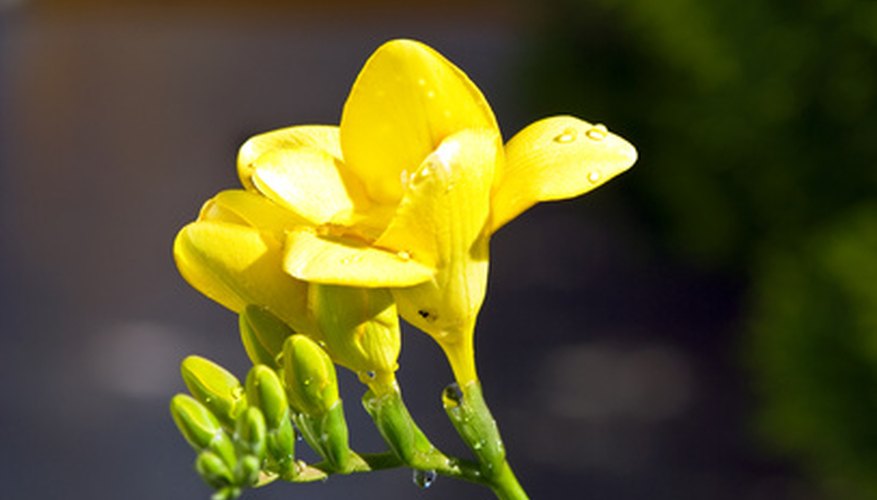 The freesia genus belongs to the family Iridaceae. The genus includes 14 to 16 species of flowering plants native to Africa. Bell-shaped blooms perch atop a stem that curves, facing the blooms upward. A popular flower for fragrance, the light pink and red varieties feature a stronger scent, according to Teleflora.
History
Freesia was named in honor of Friedrich Heinrich Theodor Freese. A German physician from Keil, Freese studied under Danish botanical collector Christian Friedrich Ecklon in South Africa during the 1800s. During the 19th century, interest in freesia led to the cultivation for increased scent, resulting in the species Freesia refracta and Freesia leichtlinii. According to FlowersPlants.net, numerous cultivars result from these species.
Plant Structure
Freesia grows from a corm, a type of solid bulb. Long, narrow leaves surround a slightly branched stem. Six to 10 funnel-shaped flowers in single or double petal patterns grace the top of the curving stem. Stems may grow up to 18 inches in length. Blooming up to seven days, the freesia is available in a variety of colors, including yellow, white, orange, pink, red, mauve, purple, lavender and bicolored.
Outdoor Cultivation
Freesias grow well outdoors in U.S. Department of Agriculture (USDA) plant hardiness zones 8 to 10. The delicate nature of freesia calls for their growth to be in protected areas or in containers. Plant corms closely. Six can be planted in one grouping at 1 inch below the ground. Maintain constant moisture while leaves and flowers develop. Once finished blooming, allow plants to dry off and save the corms for the next year.
Indoor Cultivation
In cool climates, freesia can be grown as winter flowers indoors. To cultivate, plant the corms outdoors in late summer or early fall. When the first frost approaches, bring the corms indoors and plant in a pot containing well-drained compost. The corms should be placed 1/4-inch deep. Once established, grow out of direct sunlight. Support plants with bamboo or wire rings.
Usage
According to the Flower Expert, freesia is popular for use in bouquets for special occasions. A symbol of innocence and friendship, freesia is often featured in wedding arrangements. Freesia scents are used in soups, lotions and candles. The freesia represents the 7th wedding anniversary, according to Teleflora.