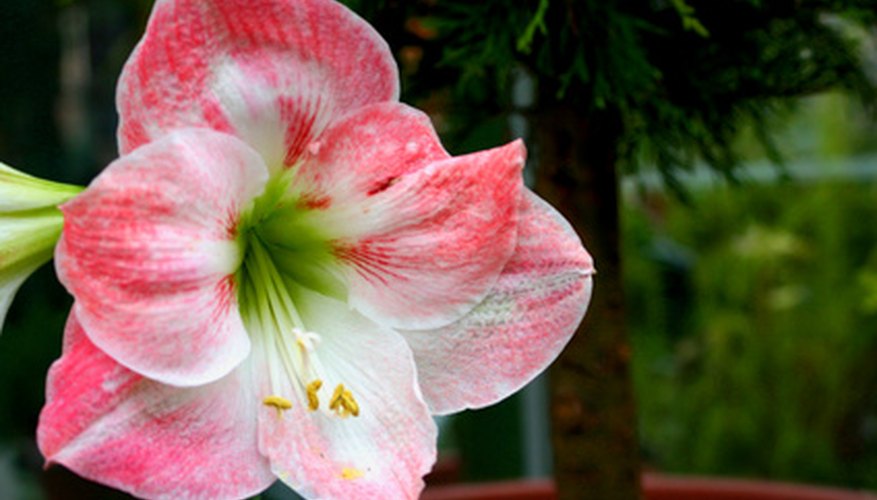 Amaryllis flowers (Hippeastrum species) feature large, showy blooms and are equally attractive whether planted in the home garden or cultivated in containers. In fact, potted amaryllises are popular gifts, according to the University of Illinois, especially during the holidays. These tropical beauties are widely hybridized and come in a dazzling array of sizes and colors.
Flowers
Amaryllis flowers are trumpet shaped and somewhat similar in appearance to lilies. Some types have just one flower on a tall stem, while others have two or more blooms. Most cultivars have bright, jewel-tone colors in shades of red, pink and orange. Others feature pastel blooms of soft pink, salmon and creamy white. Many cultivars are bi-colored or have contrasting stripes on the petals. Individual flowers can be as large as 6 inches across.
Bulb and Foliage
Amaryllis bulbs are large and shaped like a teardrop. The larger the bulb, the larger the flower will be, according to the University of Florida. The bulbs need shallow planting, whether in a container or in the garden, with the neck of the bulb protruding above the surface of the soil along with a third of the rest of the bulb. The stalks, which are topped by the flowers, range in size from 12 inches to 3 feet tall. The leaves are long, slender, and strap-shaped. They can reach lengths of 18 inches.
Climate
Amaryllis flowers are native to tropical areas of South Africa, according to the University of Florida, and thrive outdoors in areas that have year-round warm, humid temperatures. In the United States, this is limited to the subtropical and tropical areas of U.S. Department of Agriculture (USDA) plant hardiness zones 10 and 11. For this reason, amaryllis plants are frequently grown in containers indoors. Containers should be only two inches in diameter wider than the bulb and should have at least one drainage hole.
Environment
The large bulbs of the amaryllis will rot if exposed to overly wet conditions. For that reason, these flowers need well-draining soil. Use a potting medium with large amounts of sand and peat moss, or plant in a raised garden bed. Amaryllises bloom best when exposed to full sunlight when indoors, according to Clemson University. Outdoor plants can be in areas with light shade.
Problems
Amaryllis plants can suffer from insect pest problems and diseases. Overwatering will cause root rot or other fungal diseases to develop. Water only when the soil surface feels dry, according to Clemson University. Common insect pests such as scales and spider mites should be rinsed off with a strong stream of water. Mosaic virus is a disease that sometimes plagues these flowers. The primary symptoms are reduced flowering and yellow streaks on the leaves. There is no cure for the disease.