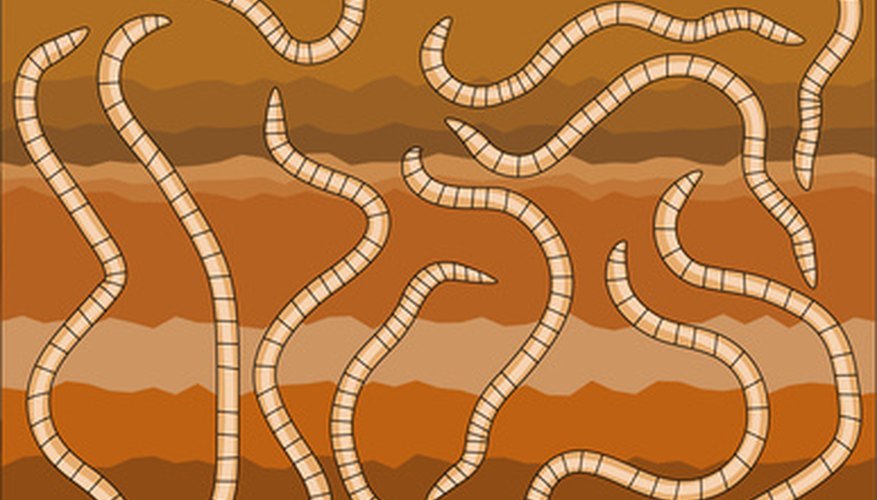 Raising garden worms can be beneficial for your garden. The worms work naturally to decompose organic material and create a rich soil that is perfect for fertilizing your flower or vegetable gardens. Once you get your worms all set up with the right housing and natural ingredients, maintenance is a breeze. You will find that raising worms is much easier than raising a dog or cat, and even your children can help with their care.
Choose a house for your garden worms. You can use a wooden box, bin or plastic container. Texas A&M University recommends that the size of the home be at least 3 feet wide, and 2 feet deep.
Fill the bottom layer of your worm house with small strips of leftover paper.
Add a layer of soil to your worm house and then mix the two ingredients together with a garden shovel. This could be messy so you may want to wear a pair of gloves.
Moisten the soil with water. Be careful not to overwater the soil, though. You don't want it sopping wet.
Set your worm house out in the sun for 2 days. This allows the temperature of the soil to rise to between 60 and 80 degrees F. That is the temperature preferred by garden worms.
Add 4 lbs. to 8 lbs. of worms based on the size of your worm house. If your worm house is on the smaller side, go with 4 lbs. If it is closer to a medium size, you can go with 6 lbs. Use 8 lbs. for large worm houses.
Feed your worms coffee grinds, vegetable peelings, fruit scraps, tea bags, and egg shells on a daily basis. Just toss the ingredients on the top of your soil and carefully mix it in. Don't mix it deep. It is best if it stays on the top of the pile.
Check the soil every other day to see if it needs more water. You need the soil to stay moist if you want to keep your garden worms alive and happy.
Things You Will Need
Box, bin or plastic container

Paper

Soil

Garden shovel

Gloves

Water

Worms

Food scraps
Tip
It is best not to compost bones, meat products or dairy products.
Warning
If you use a wooden box, make sure the wood is not pressure-treated. The chemicals could harm the worms.