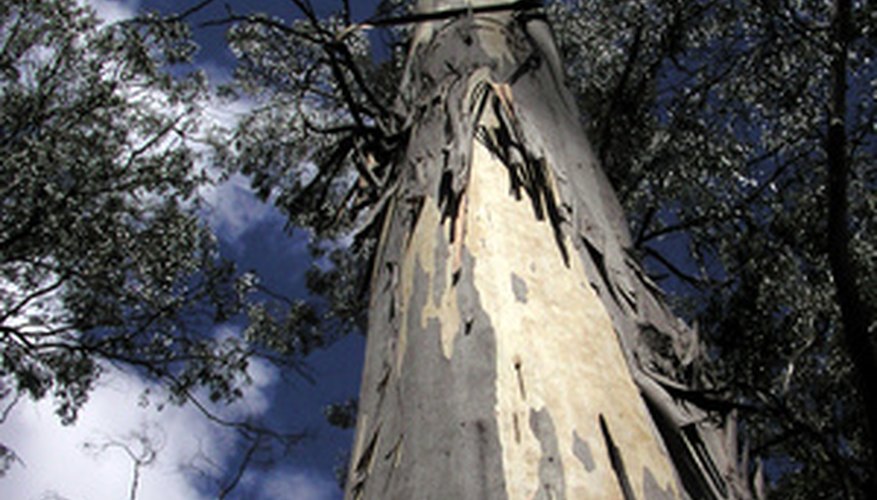 Native to Australia, eucalyptus trees can be graceful yard trees. Their bark develops a patchy look and their rough leaves emit a strong piney odor. Eucalyptus grow best in subtropical climates and should not be grown above USDA hardiness zones 6 or 7. Gardeners looking to plant eucalyptus can choose the cold-hardy white gum eucalyptus; the lemon-scented Eucalpytus citriodora, the red gum eucalyptus found throughout Australia or many other cultivars of this tree. Purchase eucalyptus in either the spring or fall and plant straightaway.
Research different types of eucalyptus using the lists provided by California State University and the Natural Resources Institute (see Resources below). While there are more than 600 species of eucalyptus, only a small fraction of this number get sold commercially for backyard trees.
Create a list of eucalyptus trees you'd like to grow based upon your research. Note the mature size of the trees, as some may grow too large for your landscape, like Eucalyptus viminalis, which can grow up to 300 feet, or Eucalyptus corynocalyx, which can grow up to 150 feet.
Visit local nurseries to browse eucalyptus stock. Look for the types of eucalyptus you decided you wanted to grow, then visually inspect the trees to choose a strong specimen.
Discard any trees that do not have a straight trunk or that have a stubby, short trunk. Also cast aside trees with few roots (if you're purchasing a bare-root tree) and trees that have branches clustered one one side of the tree. Trees should have branches that are spread out and long, straight trunks.
Bend the tree trunk to one side then release it. If the trunk does not snap back into place, there is a problem with the tree's roots. Do not choose the tree.
Purchase a healthy eucalyptus specimen when you've completed your visual inspection.