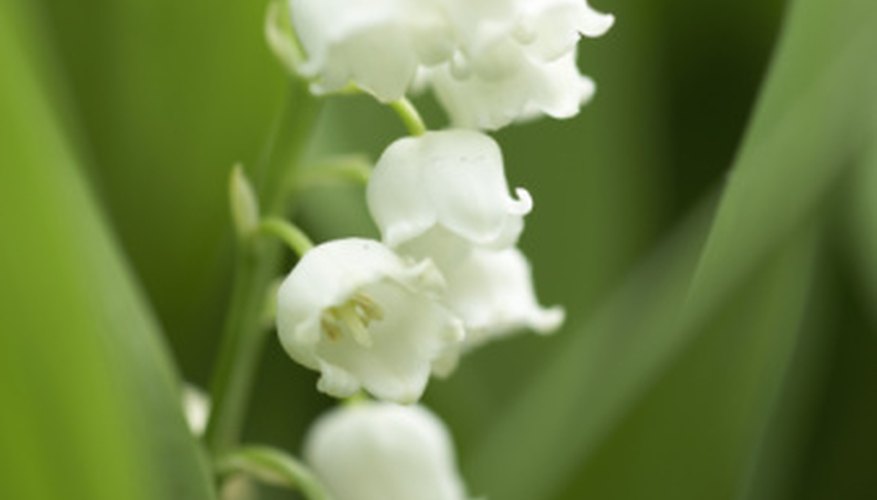 Convallaria majalis, commonly known as lily of the valley, bursts forth in late spring with stalks of small white or pink bell-shaped flowers surrounded by lance-shaped, broad, green leaves. Lily of the valley is adaptable to a variety of growing conditions and settings, and is commonly used as a ground cover in woodland settings. The underground rhizomes spread from buds called pips. The plant can become invasive and require thinning by division into smaller clumps. Lily of the valley can be divided in early spring or late fall, depending on your location and climate.
Dig rhizomes using a turning fork to avoid damage. Inspect rhizomes and discard any that are badly damaged or over 1 year old.
Use a small saw or sharp knife to divide rhizomes into individual pips or smaller clumps of at least two pips. Select the clump size according to personal preferences or the size of the new planting area. Trim the damaged parts from the ends of broken rhizomes. Treat any damage by dusting open wounds with sulfur powder or fungicidal dust.
Replant the pips or clumps immediately with the top of the rhizome showing above the ground. Sprinkle from 1/2 cup to 1 cup of blood and bone meal around each planting. Water the area well.
Mulch fall-divided plants for winter protection. Use pine straw or evergreen limbs or leaves for best results.
Things You Will Need
Turning fork

Trowel

Sharp knife or small saw

Sulfur powder or fungicidal dust

Blood and bone meal

Gloves (optional)
Warning
Never let the rhizomes dry out. If necessary, keep a bucket of water handy to put them in until they can be replanted.