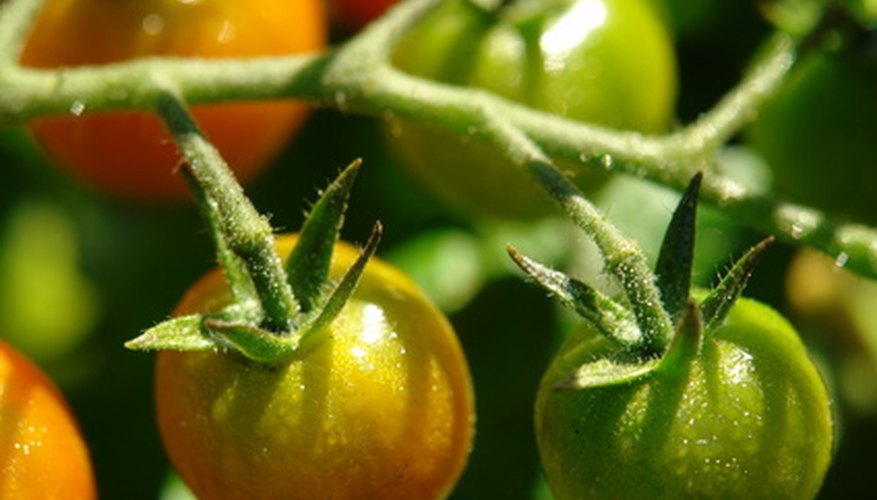 One frequently advertised method for growing container tomatoes is upside down in hanging planter bags. According to these advertisements, tomatoes grown upside down have benefits that range from an unusual, J-shaped appearance as the vines bend toward the sun to the ability to easily harvest tomatoes that hang in a convenient location. But you don't have to purchase expensive grow bags in order to grow tomatoes upside down. Tomatoes will grow upside down in planters of any size. The key is to choose a container that is proportional to the tomato plant.
Cut a hole in the bottom of a sturdy canvas bag, such as a tote bag, book bag or grocery shopping bag that is large and sturdy enough to hold the weight of both the fully grown tomato plant and wet soil.
Slip a broomstick through the handles of the shopping bag and hang it over the backs of the two chairs. This will make assembling your grow bag simpler.
Cut an X-shaped slit in the center of a coffee filter.
Insert the root ball of a smaller tomato variety, such as Window Box Roma, Tumbling Tom, Tiny Tom or Tiny Tim, into the hole in the bag. Smaller tomato varieties require less soil to grow, and will weigh less when hanging. Slip the coffee filter around the root ball of the tomato and the stem to hold the tomato plant in place. Slide the filter up to the top leaves of the plant so that the stem will be buried in the potting soil. The plant will develop new roots along the stem.
Mix a lightweight potting soil containing 1 part peat moss, 1 part compost, 1 part vermiculite and ½ part composted manure. This creates a lightweight potting soil that will not put too much strain on the handles of the shopping bag or the hook that you hang the bag from. Fill the bag around the root ball of the tomato with the soil.
Hang the tomato bag from a sturdy location in full sun. A T-post for a clothesline is ideal for this task. If you hang the plant against the eaves of a home, the plant may not develop tomato fruit, because the home may shade the plant too much.