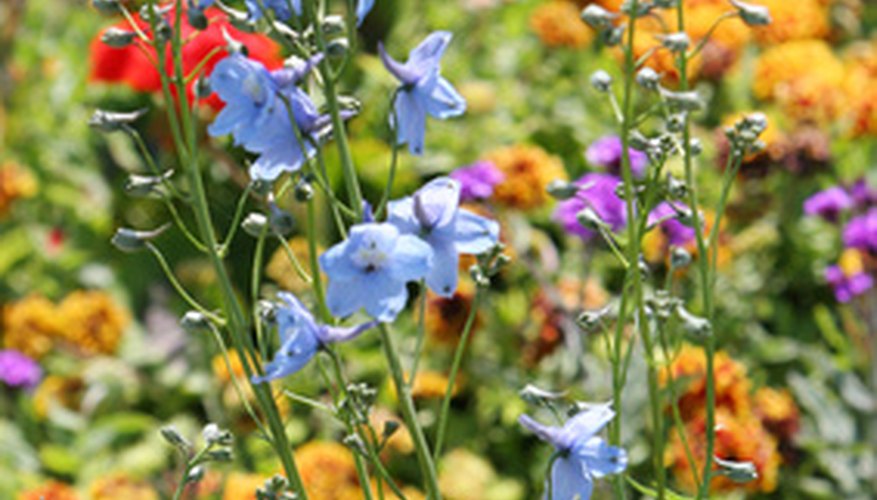 Flower garden image by MAXFX from <a href='http://www.fotolia.com'>Fotolia.com</a>
Flowers that need lots of sun are often referred to in the gardening community as full-sun flowers. These plants require at least 6 to 8 hours of full sunlight. In many areas, the most successful full-sun flowers are those that are native to the area. Gardeners should not focus only on the light needs of specific plants when planning a garden but also on the water and nutritional needs of each plant.
Cosmos
Cosmos bipinnatus, known as the Mexican aster, belongs to the aster and daisy family. Bright, colorful flowers are featured on slender stems. Thriving in well-drained soils, cosmos require full sunlight. They are an annual in USDA zones 5 through 10, reseeding in warm winter climates. An ideal background plant for beds and borders, cosmos grow from 1 to 7 feet tall, depending on variety.
Blanket Flower
Gaillardia pulchella, or blanket flower, features a multicolored flower in a daisy-like shape. In shades of yellow, orange, crimson and scarlet with rose-purple centers, the blanket flower is native to North America. Hot, full-sun locations provide ideal growing conditions. The blanket flower tolerates dry conditions in USDA zones 5 through 10. The flower is often featured in wildflower and meadow gardens and is colorful in both borders and beds.
Zinnias
The common zinnia is found in many different varieties. All are easy to grow and thrive in full-sun locations. Zinnias have solitary daisy-like flowers perching on long stems. A vast array of colors are available for any garden design. Dwarf zinnias remain shorter than 6 inches, while other varieties grow in excess of 3 feet tall. A traditional flower for annual beds, zinnias are an ideal cut flower. Frequent removal of spent flowers produces a longer flowering season.
Poppy
Papaver somniferum, also known as the opium poppy, grows 3 to 4 feet tall. Double flowers in red, pink, white, mauve or purple are short-lived. Opium poppies do well in full sun, but they do tolerate slight shade in the hottest climates. Well-drained soil is ideal for this native of Europe and Asia. Floridata.com suggests using the opium poppy in mixed borders and beds.
References