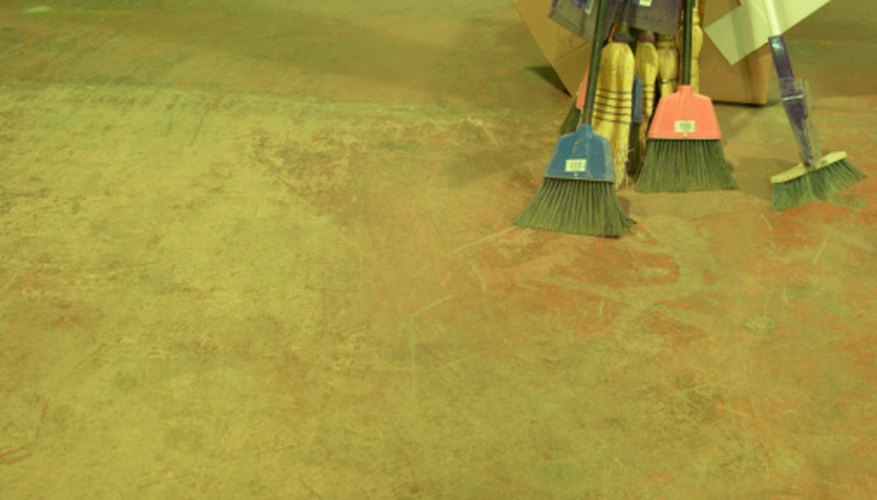 Old concrete floors may hold a certain charm for some people but they can also look dull and cold, especially in a basement or garage that doesn't receive much natural light to begin with. Choose from a bright, eye-popping color or a classic neutral and transform the entire look of a room by painting the floor -- just be sure you use a paint that is specifically formulated for use on concrete.
Sweep and vacuum the floor to remove all dust and debris.
Remove any paint splatters, old adhesives or stains from the concrete.
Repair any cracks or crumbling patches of concrete.
Sweep the floor a second time then mop thoroughly with a mixture of 1 part bleach to 4 parts hot water. Allow the concrete to dry for 24 hours.
Paintbrush a coat of concrete primer around the perimeter of the room.
Apply primer to the remainder of the floor with a thick-napped lambswool roller attached to a pole. Start at the end of the room and work backwards towards the door, one section at a time. Pour a small amount of primer directly onto the concrete and roll in a "W" pattern to fill in the space. Repeat with each section of the floor until it is completely covered. Wait 12 to 24 hours for the primer to dry.
Paint the perimeter of the room with a brush. Fill in the remaining space using the same technique used for priming. Allow the paint to dry for 12 to 24 hours and apply a second coat. Wait three to seven days before walking on the floor.
Things You Will Need
Broom

Vacuum

Bleach

Water

Mop

Paintbrush

Paint roller

Painting pole