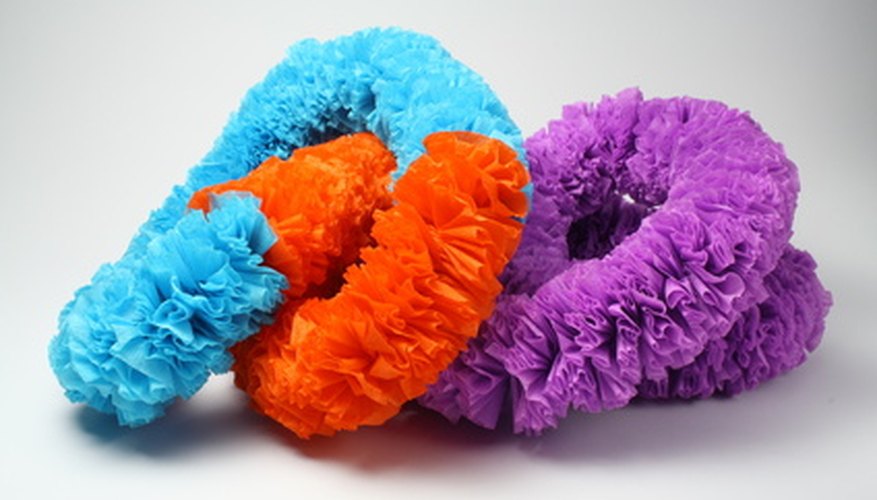 Grass skirts add a touch of the tropics to any festive event. You can quickly make your child her own grass skirt using inexpensive items found in most households. All of these grass skirts are made from cheap materials and in minutes. Get your kids involved and let them help. Look for brightly colored plastic bags or plastic table skirts with tropical images such as palm trees, Hawaiian leis or pineapples, to cut into the skirt.
Crepe Streamer Grass Skirt
Cut a length of crepe streamer to fit the waist of the skirt. Staple or tape the end in place.
Cut several lengths of crepe streamer as long as you want the length of your grass skirt.
Staple the ends of the streamers all around the waist so the streamers hang downward.
Trash Bag Grass Skirts
Lay a plastic trash bag flat on a hard surface with the drawstring end at the top end.
Cut the bottom end off of the trash bag so the remaining bag is the desired length of your grass skirt.
Start at the bottom and cut all the way up to the drawstring but do not cut through the drawstring. Make these cuts all around the bag.
Put the grass skirt on the child and tighten the drawstring as the belt as needed to secure the grass skirt.
Green Plastic Grass Skirt
Spread out a green plastic table skirt. Measure the length of the waistline for the skirt.
Cut the amount of plastic skirt off for your grass skirt. Cut from the bottom of the plastic up to two inches from the top of the plastic. Continue with these cuts on the entire green plastic material.
Add the Velcro to the top corners of each end of the green plastic. Put the skirt on the child's waist who will wear the grass skirt and secure using the Velcro.
Things You Will Need
Roll of green paper crepe streamers

Scissors

Stapler and staples or scotch tape

Paper grass skirts

Black or white trash bag with a drawstring

Green plastic table skirt

Adhesive-lined Velcro
Tip
For the green plastic grass table skirt, one sheet should make six skirts.
Warning
Do not cut the strips too thin on either of the plastic grass skirts to prevent the strips from ripping from the skirt.
Resources